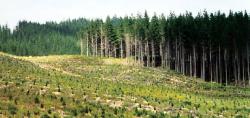 Tuesday - Foresters want the $25 carbon-price cap gone – but they'd live with it if there were a price floor, says a Government-commissioned report.

25 Jan 16 - The past year has been a momentous time for the world's forests, with both good and bad news. Fasten your seat belts, because 2016 promises to be another roller-coaster ride.

15 Dec 15 - What's in the Paris Agreement for forestry? Forest Owners' Association chief executive DAVID RHODES reports from Paris.

15 Dec 15 - The Paris Agreement on climate change is an incentive for businesses to work with landowners across New Zealand and the Pacific to protect indigenous forests, says a social enterprise specialising in voluntary carbon credits.

15 Dec 15 - Most of the forests involved in a fire burning in Marlborough are likely to have been insured against carbon loss.

23 Nov 15 - Analysts say the Democratic Republic of Congo, one of the world's poorest countries, has more credible plans to cut greenhouse gas emissions from forestry than several more developed states.
27 Oct 15 - Pricing environmental impacts into agriculture and forestry will not destroy the economy, figures show.
---
14 Sep 15 - Bans on clear-felling highly erodible lands and on harvesting near waterways when native fish are spawning are among provisions in a new set of environmental rules being put forward by forest owners,...
7 Sep 15 - Mapping the density of forests reveals that there are far more trees on the planet than previously thought – but humans are destroying 15 billion a year.
31 Aug 15 - Scientists warn that lizards, coral reefs and forests are all seriously under threat unless agreement is reached to reduce drastically fossil fuel emissions.
24 Aug 15 - More of New Zealand's post-1989 plantation forests are outside the Emissions Trading Scheme than are in it.
10 Aug 15 - Establishing a national forestry policy is top of the agenda at a sector meeting in Wellington today.
3 Aug 15 - As climate change warms the world, vegetation dries, rainfall patterns waver and the threat of wildfire spreads.
13 Jul 15 - Major changes will need to be made to the Emissions Trading Scheme if New Zealand wants to meet its just-announced post-2020 emissions reduction target.
7 Jul 15 - Public meetings to discuss changes to the Permanent Forest Sink Initiative kick off in Northland today.
8 Jun 15 - Bio-waste can be utilised on former pine plantations to generate big economic returns, new research shows.
18 May 15 - The Government appears to be putting in place the ingredients of a national forestry policy, an industry leader says.
11 May 15 - The Government will put $22.5 million into restarting the Afforestation Grant Scheme, it says.
30 Mar 15 - The Government is sticking to its guns – forest planting is down because of the cyclical nature of the industry, and not because carbon prices are too low to encourage planting.
---