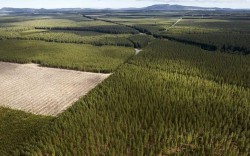 Thursday - The Maori owners of land under the Southern Hemisphere's largest plantation forest face a potential carbon liability of nearly $2.5 billion – yet have received credits for just a fraction of the carbon stored in the trees.

Thursday - To slash the Netherlands' carbon footprint, the Dutch are going on a tree-planting binge.

Wednesday - Ngai Tahu wants existing native forests included in the Emissions Trading Scheme, saying Maori are being forced to donate to the country the climate benefits of their forests.

20 Sep 16 - A quiet crisis playing out in US forests as huge numbers of trees succumb to drought, disease, insects and wildfire – much of it driven by climate change.

15 Sep 16 - A hardwood substitute has been developed to effectively end the need to log native forests.

2 Sep 16 - Foresters say they've got a deal that will get farmers planting trees – but the Government needs to play ball.

31 Aug 16 - Sustainable forestry in New Zealand is being recognised with two new awards from the Prince of Wales.
---
11 Aug 16 - A lawyer who advised a carbon-farming company that was later prosecuted by the Overseas Investment Office is under investigation over the affair.
10 Aug 16 - European officials are moving to close a loophole that promotes the burning of wood for electricity by an industry that's felling American trees, and a new report they commissioned has laid bare the...
1 Aug 16 - New Zealand's experiment with free-market forestry has left it without the forests needed to combat climate change and supply the domestic market with wood, the industry says.
25 Jul 16 - Details of a study showing that forestry can be as profitable as dairying have been made public.
25 Jul 16 - Forests planted under the revived Afforestation Grant Scheme this year are expected to store 1.3 million tonnes of carbon.
18 Jul 16 - Forests straddling the equator are critical to a stable climate because they store vast amounts of carbon, and a new study finds that five developed countries are spending billions of dollars to keep...
12 Jul 16 - New Zealand will not get forestry investment on the scale needed to tackle climate change unless it cuts risk associated with the carbon market, says a company that planted 6500 hectares of carbon...
20 Jun 16 - Information about the environmental and social performance of New Zealand's plantation forests – including their ability to sequester carbon from the atmosphere – is now available online.
31 May 16 - Norway has become the first country in the world to commit to zero deforestation.
31 May 16 - Nearly one quarter of China will be covered in forest by 2020 if the country implements its "eco-civilization" project.
30 May 16 - Phasing out the one-for-two carbon subsidy is a step in the right direction, but more needs to be done to get the Emissions Trading Scheme working - including bringing agriculture in - says the Wood...
6 May 16 - Gun-shy forest investors are watching with interest as carbon creeps up to the magic $15 mark, but they'll need at least another $3 a tonne to make up for the political risk of investing in carbon...
---