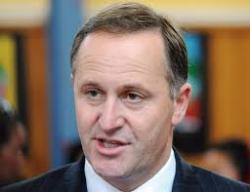 Friday - The Prime Minister says he accepts that 50,000 new jobs would be created by Maori following through on a promise to plant one million hectares of new forest if the Government lifts carbon prices.

Friday - The Government is refusing to adopt a national forestry policy, despite relying on tree planting to meet international greenhouse gas emissions reductions obligations.

Friday - The Labour Party is about to announce a policy using forestry to provide jobs and environmental services.

28 Feb 14 - Planting just over half of New Zealand's marginal land in forest would make the country carbon-neutral – and the Government knows it.

28 Feb 14 - The wood sector is gearing up to join Maori in making carbon prices an election issue.

14 Feb 14 - A proposal by iwi to plant a million hectares of new forest over 10 years could provide the economies of scale needed to kick the New Zealand industry into large-scale processing.

14 Feb 14 - The destruction of hundreds of thousands of tree seedlings is part of a "market correction" and not due to a dysfunctional Emissions Trading Scheme, the Government says.
---
31 Jan 14 - New Zealanders are willing to pay cold hard cash for the ecosystem services provided by plantation forests.
24 Jan 14 - The number of post-1989 forest owners quitting the Emissions Trading Scheme quadrupled last year on the back of cheap carbon prices.
20 Dec 13 - Deforesation and a lack of new planting means New Zealand is unlikely to meet its 2030 emissions reduction target, a forestry expert is warning.
20 Dec 13 - Government officials are reviewing just how much carbon is stored in our native forests.
13 Dec 13 - Many forest owners could run into costly penalties for innocent mistakes in their carbon returns, a consultant is warning.
13 Dec 13 - Last week's Government announcement on the future of carbon units after 2015 does nothing to stimulate action to reduce the nation's net greenhouse gas emissions, says the Forest Owners' Association.
22 Nov 13 - The REDD scheme alone will not combat deforestation – business needs to step up to the plate, says the author of a new book launched in Warsaw this week.
1 Nov 13 - Financing forestry to mitigate climate change will be on the agenda when international foresters meet in New Zealand next week.
25 Oct 13 - A young forestry investor says he'll start selling carbon when spot NZUs get to $10.
11 Oct 13 - The Forest Growers' Levy Trust, the new organisation representing the interests of all plantation forest owners, large and small, is calling for nominations for its first elected board.
6 Sep 13 - BOC gases has come up with a non-ozone-damaging fumigant to replace methyl bromide.
16 Aug 13 - Savvy forest owners are banking millions of NZUs in the expectation of big profits in the future.
---