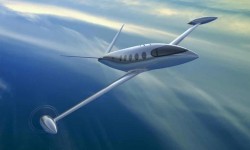 Monday - Aerospace companies gathering for the Paris air show this week are turning their thoughts to a future run on electricity rather than fossil fuels.

Monday - Permafrost has begun thawing in the Canadian Arctic more than 70 years early because of climate change, according to new research.

Monday - A dose of nature of just two hours a week is associated with better health and psychological wellbeing, scientists say.

Monday - Florida establishes a clear legal framework for self-driving cars to operate within the state.

Friday - Australia has given the final approval for construction to begin on a controversial coal mine to be built by Indian company Adani.
Friday - Heavy on tech, light on any plans to tackle its coal dependency, Japan has released its climate legislation.
Friday - The US creates more planet-warming greenhouse gas emissions through its defense operations alone than industrialised countries such as Sweden and Portugal.
---
Friday - A new website allows companies to track deforestation in their supply chains as it happens, with campaigners urging more effort to stop it.
Thursday - Carbon emissions from the global energy industry last year rose at the fastest rate in almost a decade.
Thursday - Greenhouse gas emissions in the UK will be cut to almost zero by 2050, under the terms of a new government plan to tackle climate change.
Thursday - The entire African continent faces lethal weather conditions for many of its people.
Thursday - Growing awareness of the climate crisis and a shift to plant-based diets have turned kelp farming into a thriving industry.
Wednesday - How much of a threat is climate meltdown? Should we treat it as the biggest danger to life in the 21st century, or as one of many problems − serious, but manageable?
Wednesday - The highest-capacity hybrid-electric aircraft has taken to the skies in California on its first test flight.
Wednesday - Brazilian President Jair Bolsonaro appears intent on decriminalizing Amazon deforestation, ending most fines, straitjacketing law enforcement, and gutting environmental agencies with mass firings.
Wednesday - Human destruction of the living world is causing a "frightening" number of plant extinctions, according to scientists who have completed the first global analysis of the issue.
11 Jun 19 - If humanity continues dumping plastics into nature at the current rate, there will be more plastic than fish in the world's seas by 2050.
11 Jun 19 - Former New York Mayor Michael Bloomberg has a new $500 million mission - to close every coal plant in the US by 2030.
11 Jun 19 - Up to a million species might go extinct due to human activity. We all know the mammals in trouble, but how many of us could name an endangered plant?
---