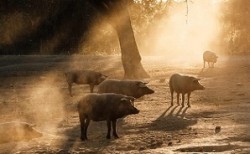 16 Jul 19 - A farm in Portugal is showing how the ancient art of silvopasture – combining livestock with productive trees – might offer some real answers to the climate crisis.

15 Jul 19 - Farmers facing falling log exports and prices for timber from woodlots are being urged to consider a new market – bioenergy.

4 Jul 19 - Farmers say they are prepared to cut methane emissions by 10 per cent by 2050 – well short of the target the Government intends imposing.

1 Jul 19 - The prospect of having to cut methane emissions by 10 per cent over the next decade is depressing otherwise optimistic farmers.

17 Jun 19 - The National Party says it will continue to oppose bringing agricultural emissions into the Emissions Trading Scheme.

10 Jun 19 - The farming sector isn't the only industry that should be targeted for methane reductions, the National Party says.

5 Jun 19 - It's World Environment Day – and officials are telling New Zealanders to mark it by eating less meat.
---
4 Jun 19 - Almost half New Zealand's farmers don't think they should have to cut greenhouse gas emissions from their operations – yet most are willing to do it if they can be convinced it won't cost them money,...
6 May 19 - Former National Party leader and one-time Reserve Bank Governor Dr Don Brash might have had doubts in the past about whether humans are changing the climate, but now he's throwing his money and...
3 May 19 - Agricultural finance specialist Rabobank is telling farming customers to think about carbon farming, saying it could be more profitable than farming animals.
1 May 19 - A New Zealand scientist says his technology could slash New Zealand's greenhouse gas emissions, earning carbon credits for farmers and boosting farm production.
16 Apr 19 - Irrigation, drought, sea-level rise and more are causing salt to build up in soils around the world.
8 Apr 19 - Genetic modification should not be ruled out by the Government as a solution for climate change and other environmental issues, Federated Farmers says.
27 Feb 19 - The risk of Queensland fruit flies establishing in New Zealand is expecting to increase as the climate warms, threatening the country's horticultural industry.
15 Feb 19 - Climate change and the Emissions Trading Scheme have fallen down the list of things worrying farmers.
31 Jan 19 - Food shocks are becoming more frequent as the climate changes, prompting calls for "climate-smart" farming systems and the building up of global food reserves.
29 Nov 18 - A new science paper spelling out why animal agriculture will have to be severely curtailed if the Paris Agreement targets are to be met could have huge implications for New Zealand.
23 Nov 18 - Nitrogen use – responsible for a large chunk of New Zealand's pollution and greenhouse gas emissions – needs curbing, the OECD is warning.
5 Nov 18 - Nitrogen inhibitors could be in use on New Zealand farms again by 2020, farmers say.
---