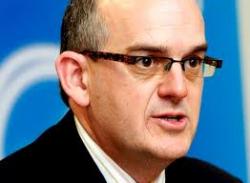 15 Mar 13 - The Government is denying its decision to scrap the biofuels obligation contributed to Solid Energy's financial meltdown.
22 Feb 13 - Green Party MP Kennedy Graham told Parliament this week that the United Nations Security Council is starting to consider climate change a serious risk.

1 Feb 13 - Prime Minister John Key was challenged in Parliament this week over why he didn't mention climate change in his outline of Government priorities for the year.

7 Dec 12 - Prime Minister John Key says that he takes criticism of New Zealand's actions on climate change with a grain of salt.

21 Sep 12 - New Zealand's emissions trading scheme could be renamed the emissions trading scam, Parliament has heard.

20 Jul 12 - New Zealand has failed to live up to the commitments to sustainable development it made 20 years ago at the Rio Earth Summit, the Green Party says.
22 Jun 12 - The Government is being accused of undermining its own policy to cut fossil-fuel subsidies, by encouraging oil exploration and giving free carbon credits to internationally exposed emitters.
---
15 Jun 12 - Economic Development Minister Stephen Joyce says the Pure Advantage business group is just looking for subsidies for businesses it likes.
9 Mar 12 - New Zealand might have missed the deadline for submissions on increasing international emissions reduction levels, but Climate Change Minister Nick Smith says it's not a problem.
30 Sep 11 - The Government is being accused of subsidising the fossil fuel industry while at the same time campaigning internationally for an end to fossil fuel-industry subsidies.
15 Jul 11 - The Government came under fire in Parliament this week for supporting plans for a lignite mine in Southland while talking about how the world should phase out subsidies for fossil fuels.
27 Nov 09 - There is a famous story in Te Ao Mâori. It is about a kahawai, not unlike the Mâori Party, and the great white shark. The great white shark said to the kahawai
23 Nov 09 - Parliament has adopted a Commerce Select Committee report' recommending changes to law which will allow the country's new emissions trading market to develop.
20 Nov 09 - Parliament yesterday discussed the potential impacts of the emissions trading scheme on Maori.
23 Sep 09 - Climate Change Issues Minister Nick Smith: Mr Speaker, I move that the Climate Change Response (Moderated Emissions Trading) Amendment Bill now be read a first time.
18 Sep 09 - Questions over the deal between the National and Maori parties have dominated environmental debates in Parliament this week.
28 Aug 09 - There was heated debate at Parliament yesterday over claims the ETS review select committee's report should have been immediately presented to the House under standing orders.
23 Jun 09 - On Thursday, the Government asked – and answered – questions about the emissions trading scheme.
1 Aug 08 - So how are the support talks going to get votes to pass the emissions trading bill?