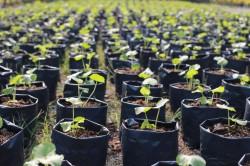 Monday - As the human population swells – and in the face of a changing and unpredictable climate – the demand for natural resources increases. This leads to distressing rates of deforestation to prepare land for agriculture, medicinal and forestry products. Related to this is an alarming reduction in species worldwide.

24 Jun 16 - Scientists warn that plant breeders will need to accelerate development schedules if they are to ensure the ever-growing population can be fed as global temperatures rise

23 Jun 16 - Drones, satellites and weed-killing lasers could slash the energy used to grow crops, say experts.
16 Jun 16 - New United Nations figures show pollution from farming is continuing to get worse.
9 Jun 16 - The United Nations has warned that extreme weather conditions are prompting crops to release toxins, and eating these crops is detrimental to human health.

8 Jun 16 - Scientists are puzzled by unexpected and conflicting results from research into the affect of irrigation on greenhouse gas emissions from soil.
1 Jun 16 - New Zealand Farm Environment Trust general manager David Natzke is stepping down after a decade at the helm.
---
30 May 16 - With the world's population expected to exceed nine billion by 2050, scientists are working to develop new ways to meet rising global demand for food, energy and water without increasing the strain...
27 May 16 - Farming is a dirty business – so dirty now that, according to new research, air pollution from agriculture in the form of fine particles of lung-choking dust outweighs all other human sources of that...
27 May 16 - Governments should tax meat production in order to stem the global rise in consumption and the environmental damage that goes with it, according to a UN expert.
26 May 16 - Dosing farm animals with antibiotics increases greenhouse gas emissions from cow dung, research suggests.
23 May 16 - Climate change-induced food shocks will have a negative effect on New Zealand's economy, researchers say.
23 May 16 - Researchers say new technical and policy solutions, plus major investment, are needed for agriculture to help to make the emissions reductions required to meet Paris targets.
19 May 16 - Dust and sand storms in China have intensified and now pose provocative geopolitical challenges. Traces of China's deserts have been found as far away as New Zealand and the French Alps.
19 May 16 - Around the globe, 2016 has been a dusty year. And the loss of soil presents a less obvious challenge: it robs us of a key ally in fighting climate change. That ally is soil microbes.
28 Apr 16 - People don't have to go hungry to conserve the planet's forests. And farmers don't have to bulldoze, burn or clear woodlands to make way for agriculture, according to new research.
20 Apr 16 - Could feeding cows brassicas help to reduce nitrogen loss from the soil?
19 Apr 16 - Agriculture will play a crucial role in addressing the planet's future needs – whether on food production, health or the preservation of the environment. But transforming the dominant agricultural...
18 Apr 16 - Twenty-five projects have been given a total of $6.9 million in the latest round of grants from the Sustainable Farming Fund.
---