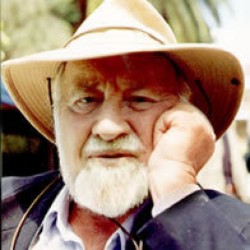 Friday - Permaculture pioneer Bill Mollison, who died last weekend, was one of the true heroes of the modern environmental movement.

Wednesday - China is protecting itself against future food supply problems caused by climate change by buying or leasing large tracts of land in Africa and South America, a leading UK climate scientist says.

Wednesday - Proposed new deals would put the majority of seeds, chemicals and GM traits in the hands of three companies, deepening poverty for small-scale farmers.

23 Sep 16 - Can we really feed nine billion people? That's the estimated global population in the year 2050.
16 Sep 16 - New Zealand's greenhouse gas emissions from agriculture continue to climb.

15 Sep 16 - Food will cost the consumer more as a result of climate change, but it is not at all clear that farmers will profit accordingly, says a new study.
14 Sep 16 - A San-Francisco startup believes it has found a solution for the guilty conscience of consumers who love eating dairy ice-cream, cheese and yoghurt, but oppose factory-style farming and its environmental footprint.
---
13 Sep 16 - Global wheat production will fall as temperatures rise, a new study shows.
12 Sep 16 - Studies suggest that regenerating the soil by turning our backs on industrial farming holds the key to tackling climate change.
12 Sep 16 - Wine production consumes large amounts of energy and generates a sizeable quantity of greenhouse gases.
12 Sep 16 - Directly seeding rice into fields rather than transplanting it into flooded paddies would dramatically reduce methane emissions and slow down climate change, according to scientists studying the...
5 Sep 16 - While science is racing to develop more drought tolerant crop strains through genetic engineering, there may be a simpler alternative ­­­‑- flies.
5 Sep 16 - Palm oil makes a big contribution to modern life as one of the most widely used substances in food, cooking, cosmetics, medicines and a range of chemicals. But the industry that produces it is...
18 Aug 16 - The Countdown supermarket chain says it will make supply agreements with individual producers of free-range and barn eggs, giving suppliers greater economic security.
16 Aug 16 - Cotton is the world's most widely grown and economically important non-food crop. In the United States alone, farmers grow cotton on 12 million to 14.5 million acres, and produce a yearly harvest...
15 Aug 16 - Farmers need to give up the plough to protect UK food security in the face of climate change, warn government advisers.
11 Aug 16 - California's attempt to curb emissions of methane, a powerful greenhouse gas, is facing vocal opposition from a dairy industry that fears government meddling in the flatulence of its cows.
9 Aug 16 - New wastewater treatment technology at Fonterra's Edendale site is turning dairy waste into fertiliser that is helping local pastures to flourish.
8 Aug 16 - Palm kernel won't be fed to animals on Landcorp-owned farms after this financial year.
---