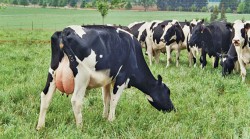 14 Feb 20 - The Government is considering introducing new rules to govern the use of inhibitors in agriculture to avoid a repeat of the 2013 DCD trade disaster.

5 Feb 20 - An urban farming initiative is at the centre of the first $100,000 Pivot Award, a premier research award aimed at enabling innovation in Taranaki's agriculture sector.

5 Feb 20 - A sustainability charge on meat to cover its environmental damage could raise billions to help farmers and consumers produce and eat better food, according to a report.

30 Jan 20 - Farmers will have to move away from intensive, specialised farming as climate change bites, the agriculture minister says.

12 Nov 19 - The Government denies large areas of productive farmland are being converted to forestry as the country tries to offset its greenhouse gas emissions.

14 Oct 19 - Tensions between farmers and foresters over land acquisitions are about to be played out on the streets of Wellington.

4 Oct 19 - New Zealand is putting money and science behind Scottish research into farming climate-friendly sheep.
---
2 Oct 19 - With the complex data collecting devices of today's world, agriculture is in the midst of a high-tech revolution- particularly in the area of precision farming.
1 Oct 19 - Recommendations that people should keep eating red meat fail to take environmental damage into account – posing a long-term threat to human health, says one of New Zealand's leading medical...
26 Sep 19 - Fonterra's economic woes are not the only thing worrying farmers – they're also becoming increasingly anxious about the Government's plans to make them clean up their environmental performance and...
9 Sep 19 - The world faces an "imminent crisis" in the supply of phosphate, a critical fertiliser that underpins the world's food supply, scientists have warned.
5 Sep 19 - Virtual fencing is a new technology that could help cattle farmers to deal with the changing climate by allowing a system of land sharing that delivers sustainability and productivity.
23 Aug 19 - The low-carbon future is hemp, says a company dedicated to making the once-banned product the backbone of the New Zealand economy.
21 Aug 19 - Farming for soil-carbon credits offers landowners in New Zealand and other OECD agricultural countries a vast potential to make money, says a global carbon markets pioneer.
20 Aug 19 - Scientists have completed one of the first studies of the impact of drought and warmer temperatures on living organisms below the ground.
12 Aug 19 - Climate change is now the single greatest issue on farmers' minds, according to the latest Farm Confidence Survey.
26 Jul 19 - The Government's drive to cut greenhouse gas emissions could see horticultural land taken over by a dairy industry being squeezed by expanding forestry, MPs have been told.
25 Jul 19 - Dairy farmers are backing the Government's plan to cut methane emissions by 10 per cent by 2030, telling MPs it is achievable.
16 Jul 19 - A farm in Portugal is showing how the ancient art of silvopasture – combining livestock with productive trees – might offer some real answers to the climate crisis.
---