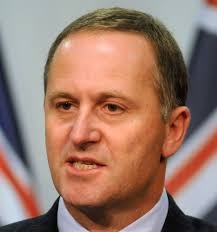 Monday - Prime Minister John Key today will lead a high-powered call for an end to fossil fuel subsidies – despite the fact his Government is subsidising fossil fuel exploration.

Monday - The coal, oil and gas sectors have been warned that trillions of dollars of assets could be stranded if a global agreement on limiting climate change is reached at the UN summit in Paris.

Monday - A large solar thermal electricity plant will soon begin operating near Ouarzazate, Morocco, which will reportedly bring energy to a million people when fully complete.

23 Nov 15 - Bluff aluminium smelter owner Rio Tinto – which threatened to quit New Zealand if a carbon price was introduced - is one of the world's worst-prepared mining companies for carbon regulation, says a report out today.
23 Nov 15 - Liechtenstein, Germany and Italy have the highest per capita rate of installed solar generation in the world.
16 Nov 15 - Fonterra and 11 other major New Zealand companies failed to disclose to a global business organisation information about what they are doing on climate change.

16 Nov 15 - Replacing traditional light bulbs with energy-efficient LED bulbs might seem like a simple job – unless you own some of the country's largest shopping centres and offices.
---
16 Nov 15 - Analysts say the world's 20 leading economies give nearly four times as much in subsidies to fossil fuel production as total global subsidies to renewable energy.
16 Nov 15 - New and cheaper ways are rapidly being floated for countries with deep seas off their coasts to exploit the free energy from wind and tidal power.
9 Nov 15 - Entries are open for the EECA Awards 2016, acknowledging businesses and organisations demonstrating excellence in energy efficiency and renewable energy.
9 Nov 15 - Researchers say the way to establish fair levels for everyone on global emissions reduction is for one of the major powers to stand up and set the benchmark.
9 Nov 15 - The quest is on to develop new technology that can tap the intense heat deep below the Earth's surface and supply the whole world with electricity.
9 Nov 15 - China will more than triple its generation from renewables, excluding hydropower, by 2025, a new report shows.
2 Nov 15 - New Zealand needs a smarter government to accelerate the uptake of electric vehicles, says New Zealand First leader Winston Peters.
2 Nov 15 - The cost of solar energy continues to fall, so it is no surprise that more people are adopting solar.
27 Oct 15 - Victoria University's commitment to sustainability and responsible environmental management have been recognised with top honours at the Australasia Green Gown Awards.
27 Oct 15 - Researchers say emissions reduction targets set by China, the US and Europe place harsh demands on the rest of the world, and could cast a pall over the Paris climate summit.
19 Oct 15 - New Zealand had a solar-powered national radio broadcast last week – for three hours.
19 Oct 15 - Fonterra is now the second-largest user of coal in New Zealand, behind the New Zealand Steel plant at Glenbrook, says anti-coal campaign group Coal Action Network.
---