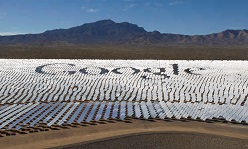 Wednesday - Google's data centres and the offices for its 60,000 staff will be powered entirely by renewable energy from next year, in what the company has called a "landmark moment".

Tuesday - Since Tesla unveiled its Powerwall, politicians, commentators and industry have hyped storage – and particularly batteries – as the solution for getting more renewable energy into electricity grids and reducing our reliance on fossil fuels.

Monday - New Zealand could easily become a Queensland-style biofutures superpower, local industry leaders say.

Monday - For centuries, humans have dreamed of harnessing the power of the sun to energise our lives here on Earth.

Monday - Seven years ago, the US exported its crude oil to just one country — Canada. This year, 22 countries received American crude oil, marking a more than 1000 per cent increase in US oil exports since 2009.

Monday - The world's largest solar plant has been unveiled by the Adani Group in Kamuthi, Tamil Nadu, in the south of India.

2 Dec 16 - The global solar photovoltaic market is likely to grow to nearly 300 gigawatts this year.
---
1 Dec 16 - Old tyres can be completely recycled into low-emission diesel engine oil, says a team of engineers.
1 Dec 16 - In recent weeks, China has reiterated its plans to push forward on climate action. Despite this, the country is scrambling to mine and burn more coal.
30 Nov 16 - The average New Zealand household's emissions fell 11 per cent between 2006 and 2012, new research shows.
30 Nov 16 - Climate policies will keep chipping away at fossil fuels' role as the mainstay of global energy use, despite Donald Trump's appointment as United States president in 2017, according to a new report...
30 Nov 16 - A push for renewable generation is affecting demand for boilers, turbines and generators, a new report shows.
29 Nov 16 - Rugged solar panels, capable of withstanding the weight of an 18-wheeler truck, are now being trial-built into road surfaces.
29 Nov 16 - Finland has announced its plans to phase out the use of coal for electricity generation by 2030.
25 Nov 16 - Protected forests are being indiscriminately felled across Europe to meet the EU's renewable energy targets, according to new report.
23 Nov 16 - The California Energy Commission has announced plans to attempt to utilise energy generated from standstill traffic.
22 Nov 16 - An energy service that combines battery storage and rooftop solar without any equipment costs for Kiwi homeowners has won a green award for innovation.
22 Nov 16 - Canada could be coal-free by the end of next decade under plans outlined by environment minister Catherine McKenna.
22 Nov 16 - Scientists for the first time have injected carbon dioxide into ancient lava flows and watched it solidify, demonstrating that capturing carbon dioxide and safely storing it underground might be a...
---