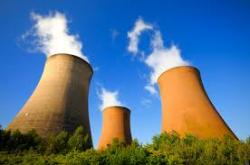 Friday - The nuclear industry remains remarkably optimistic about its future, despite evidence that it is a shrinking source of power as renewables increasingly compete to fill the energy gap.

Friday - Australiaís biggest coal mine, the Carmichael Coal and Rail Project this week received the go-ahead from the federal government.

Friday - New Zealand-based international engineering company Aurecon is involved in renewable energy projects around this world. But it is pessimistic about the outlook for renewables in New Zealand.

25 Jul 14 - By KIERAN COOKE.- Itís not the sort of league table that anyone is proud of leading, but a new report on the European Unionís power sector lists the EUís 30 most polluting energy plants Ė all powered by coal.

25 Jul 14 - In proposing a 30 per cent rather than a 40 per cent energy demand reduction target, the European Commission is increasing the risks that European Union member states face from fossil-fuel dependence and slowing the economic and social benefits of better insulated homes and lower energy bills.

18 Jul 14 - Have reports of coal's demise been greatly exaggerated? It depends which part of the world you look at.

18 Jul 14 - Nuclear power is seen as one of the possible solutions to climate change, but the recent closure of five US power stations is forcing the industry to face up at last to the damaging legacy of how to deal with radioactive waste.
---
11 Jul 14 - The eastern Caribbean island of Montserrat has suffered more than its fair share of natural disasters.
11 Jul 14 - Sydney is to head an international network of global cities looking at energy efficiency.
11 Jul 14 - A Victoria University engineering lecturer is shedding light on household power usage, as part of her research into improving the way New Zealand uses electricity.
4 Jul 14 - The Asia-Pacific region will invest a massive $3.6 trillion over the years ahead to equip itself with the power capacity it needs for 2030.
4 Jul 14 - Climate change will require substantial new investment in low-carbon energy and energy efficiency Ė but no more than what is currently spent on todayís fossil-dominated energy system, according to...
4 Jul 14 - Sunita Bote, a 30-year-old housewife from the small village of Kumroj in eastern Nepal, was far from convinced when energy specialists from the capital city, Kathmandu, talked about the benefits of...
4 Jul 14 - The body that represents doctors in the UK has voted to end its investments in fossil fuel companies − making it the first national medical organisation in the world to do so.
4 Jul 14 - British researchers have found a new way to cut the cost of solar cell manufacture, and at the same time make the process less hazardous.
4 Jul 14 - At the recent midyear UN climate negotiations in Bonn, an unprecedented 60 countries (including Germany) called for a total phase-out of fossil fuels by 2050, as part of a global agreement on climate...
4 Jul 14 - Auckland Cityís Energy Resilience and Low Carbon Action Plan will create green jobs and economic growth, says the Bioenergy Association.
27 Jun 14 - When it comes to solar power, itís a case of the more blue the better, according to Victoria University of Wellington researcher Dr Jonathan Halpert.
20 Jun 14 - Latest energy figures show the dramatic impact cutting coal-fired generation has on greenhouse gas emissions.
---