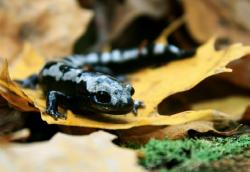 4 May 15 - Climate change threatens one in six of the world's species with extinction, according to new research.

22 Dec 14 - Scientists predict that lethal heat waves in Europe, and ice storms and big freezes across the globe, could become regular events if greenhouse gas emissions are not controlled.

8 Dec 14 - Start the car, turn on the gas under the kettle, shovel some coal on the fire. Each time that happens, another pulse of carbon dioxide is released into the atmosphere.

24 Nov 14 - Sixty years ago, New Zealand scientists started the world's first long time-series of atmospheric radiocarbon measurements.

10 Nov 14 - Scientists have identified a new hazard that will arrive as a result of climate change: a huge increase in hay fever and pollen allergies.

22 Sep 14 - Welcome to tropical Sydney, where colourful surgeonfishes and parrotfishes are plentiful, corals have replaced kelp forests, and underwater life seems brighter, more colourful and all-round better. Or is it?

22 Sep 14 - Things could soon get worse for drought-hit California. New research predicts that, by the close of the century, global warming could have reduced the flow of water from the Sierra Nevada mountains by at least a quarter.
---
22 Sep 14 - Is it possible for humans to fulfil their needs without also destroying the environment? It's a question we need to find an answer to soon, as the world's poorer regions demand the same perks that...
22 Sep 14 - The terrifying whirlwinds that punctuate the mid-Western summer in the United States so frequently as to earn the nickname Tornado Alley for the southern plains region states such as Nebraska,...
25 Aug 14 - The IPCC is under-estimating the impact that melting of the Antarctic ice sheet will have on global sea-level rise, a visiting American scientist says.
25 Aug 14 - It doesn't take much to change a planet's climate – just a little shift in the Northern hemisphere glacial ice sheet and a bit more carbon dioxide in the atmosphere. After that, the response is rapid.
18 Aug 14 - New research supports the growing body of evidence that many past civilisations have collapsed because of climate change. So is history repeating itself?
1 Aug 14 - A third of the permanent snow and ice of Southern Alps has disappeared, according to aerial surveys.
25 Jul 14 - Last winter was New Zealand's warmest on record, says the latest international report on global climate.
25 Jul 14 - A string of events earlier this year provided a sobering snapshot of a global climate system out of whack. Europe suffered devastating floods, Britain's coastline was mauled, and the polar vortex...
18 Jul 14 - Urban conservation can save significant amounts of money in health spending, according to Wellington researchers.
18 Jul 14 - the Australian prime minister may be scathing about climate science, but new research shows that burning fossil fuels is a significant factor in the long-term rainfall decline that is leaving...
11 Jul 14 - Once again, American scientists have come to the same conclusion: there really is no alternative. The only way to contain climate change and limit global warming, they say, is to reduce carbon...
27 Jun 14 - Last winter was New Zealand's warmest on record, says the latest international report on global climate.
---