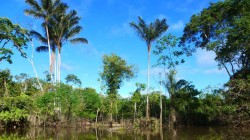 21 Dec 16 - Climate change is already beginning to alter the natural world. A study of 976 plant and animal species worldwide – freshwater, terrestrial and marine – reveals that local extinctions have happened in 47 per cent of their natural ranges.

20 Dec 16 - A year is a short time in science but a lot happened in 2016.

20 Dec 16 - Scientists have published a set of unprecedented ocean observations near the largest glacier of the largest ice sheet in the world: Totten glacier, East Antarctica. And the result was a troubling confirmation that Totten is melting from below.

15 Dec 16 - Scientists have calculated the mass of that unnatural achievement called the "technosphere", demonstrating the scale of human activity that drives climate change.

14 Dec 16 - This year is set to be New Zealand's hottest on record, confirming the long-term trend of global warming and prompting calls for tougher action to cut greenhouse gas emissions.

12 Dec 16 - Ecologists have demonstrated, once again, the global importance of healthy forests.

12 Dec 16 - Plant scientists in the US have devised a new way to enhance the efficiency of crops: tune up the biochemical machinery of plants such as wheat, rice, maize, or even cabbages, to make the best of the available light and so increase yields.
---
5 Dec 16 - Three new studies illuminate the sheer complexity of the aspect of climate science known as the carbon cycle − how carbon dioxide gets into the atmosphere and out again.
25 Nov 16 - Biodiversity is not just a conservationist ideal, it is a high-value strategy, according to new research. It makes forests more productive, and could deliver up to $500bn a year in wealth across the...
24 Nov 16 - Donald Trump is poised to eliminate all climate change research conducted by Nasa as part of a crackdown on "politicised science", says a senior adviser.
23 Nov 16 - Parts of New Zealand are sinking at faster rates than others and will be subjected to higher levels of future sea level rise, new research from Victoria University of Wellington suggests.
23 Nov 16 - As summers get hotter, seas get warmer and extreme wind and rainstorms inflict ever-greater loss of human life and property, the World Meteorological Organisation is trying to develop an early...
23 Nov 16 - The sun set on the North Pole more than a month ago, not to rise again until spring. But stange things are happening.
16 Nov 16 - The European Union will be forced to import organic waste, such as cow dung and wood, if it does not limit the amount of bioenergy that can count toward its renewable energy targets.
15 Nov 16 - Climate change has already begun to alter the world's ecosystems – at sea, in rivers and lakes, and in the forests and meadows on land, according to an international team of scientists.
10 Nov 16 - By mid-century, the woodlands, grasslands and shrubs of Europe and North America will have changed.
9 Nov 16 - New research reveals that the ability of New Zealand's land biosphere to absorb carbon could be 50 per cent more than currently estimated.
8 Nov 16 - Two scientists have worked out what it would take to melt all the ice in the Arctic Ocean.
7 Nov 16 - Voters who feel good about life – whether it is to do with their job, their marriage or even the success of their sports team – are more likely to support their politicians.
---