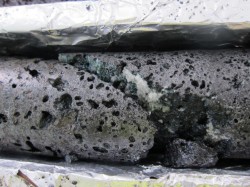 14 Jun 16 - We seriously need to do something about CO2 emissions. Besides shifting to renewable energy sources and increasing energy efficiency, we need to start putting some of the CO2 away before it reaches the atmosphere.
10 Jun 16 - A pilot project in Iceland has shown carbon dioxide can be pumped underground and turned to stone in a matter of months – far quicker than scientists expected.
2 Jun 16 - Scientists in California are testing sponges made with the key ingredient of baking soda as a way of capturing carbon emissions.

24 May 16 - One of Antarctica's great glaciers could become unstable if global warming continues at the present pace.

20 May 16 - A New Zealand student has come up with a plan to recycle waste plastic in Pacific nations using 3-D printers.

18 May 16 - The background atmospheric carbon dioxide levels measured at Cape Grim on Tasmania's northwest coast have officially passed the 400 parts per million mark.

17 May 16 - April this year was the hottest April on record globally – and the seventh month in a row to have broken global temperature records. The latest figures smashed the previous record for April by the largest margin ever recorded.
---
13 May 16 - The world's sea level is expected to rise by up to 82cm by the end of the century. Some areas of the world, such as the north-east coast of North America and the Western Pacific, will be more...
12 May 16 - Researchers have identified an unexpected generator of the fine organic dust that blows in the wind. They blame it on raindrops.
10 May 16 - Algal biofuels are in trouble. This alternative fuel source could help to reduce overall carbon emissions without taking land from food production, like many crop-based biofuels do.
9 May 16 - A new feed-supplement shown in trials to cut methane emissions from dairy cows by 30 per cent is exciting, but no silver bullet for New Zealand, says the head of the research consortium charged with...
4 May 16 - Ocean acidification is causing fundamental and dangerous changes in the chemistry of the world's oceans yet only one in five Britons has even heard of ocean acidification, let alone believes it a...
2 May 16 - From creating transparent wood for solar panels or windows to turning carbon dioxide and plant waste into plastic bottles, scientists are finding ingenious ways to sidestep fossil fuels.
28 Apr 16 - Several more decades of increased carbon dioxide emissions could lead to melting ice sheets, mass extinctions and extreme weather becoming the norm. We can't yet be certain of the exact impacts, but...
19 Apr 16 - New research shows that changing the way we farm and manage soils so they store carbon rather than lose it would help to avoid dangerous climate change.
15 Apr 16 - Scientists from around the world will contribute to a major UN report on how global temperatures can be held to a rise of 1.5degC and what the impact might be on sea level rises, the bleaching of...
15 Apr 16 - Global average sea level has risen by about 17 cm between 1900 and 2005. This is a much faster rate than in the previous 3000 years.
12 Apr 16 - Picking up and moving entire ecosystems at risk of being wiped out by climate change is a technique that has already been used to deal with other human impacts - at the Stockton mine on the West...
11 Apr 16 - Scientists say that storms carrying desperately needed water to California are being diverted by a band of high pressure that coincides with rainfall and temperature extremes.
---