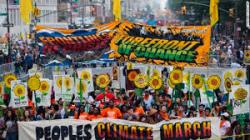 Monday - At the end of his summit meeting on the climate crisis, UN Secretary General Ban Ki-moon put out a list of accomplishments festooned with 46 bullet points, some of them marking concrete new pledges, others diaphanous phrases.

Monday - There were a few notable absentees among the more than 120 world leaders gathered in New York for last week's United Nations Climate Summit - and perhaps most notable of all was the head of the world's highest-emitting nation, China's President Xi Jinping.

Monday - Even as nations gathered in New York to discuss global-level action on climate change, there was strong recognition that cities, not countries, have so far played the pivotal role in the world's fight against climate change—and will continue to do so.

Monday - * Chile becomes the first South American country to tax carbon * UK to introduce fracking drilling law despite 99% opposition * US Homeland Security moves to tackle climate change risks * Hawaii's solar industry in precarious situation * The top 10 greenest cities in America * Avatar director James Cameron talks climate change

Monday - Australian businesses wanting to keep up to date with the international carbon market during their country's retreat from carbon pricing have formed a new regional agreement.
22 Sep 14 - A new report called Better Growth, Better Climate draws the seductive conclusion that "we can create lasting economic growth while also tackling the immense risks of climate change".
22 Sep 14 - WORLD WEB: Largest-ever climate change march rolls through NYC * China cautious on fresh commitments ahead of climate change summit * Will the new EU Commission assure Europe's leadership on sustainable development? * It's time to teach climate change in school * After An Inconvenient Truth: the evolution of the climate change film
---
22 Sep 14 - By TIM RADFORD.- New projections say the population of the planet will not stabilise at 9 billion sometime this century. In fact, there is an 80 per cent likelihood that, by 2100, it will reach at...
22 Sep 14 - In the lead-up to the UN leaders' summit on climate change (http://www.un.org/climatechange/summit), China is shifting up a gear in its drive towardsnational emissions trading.
16 Sep 14 - A United Nations chief dismayed at the lack of resolve toward the climate crisis; a daunting deadline for negotiating a new treaty; 125 or so heads of state; a sprawling agenda of fossil fuels, food,...
16 Sep 14 - Activists next week will try to seize an opportunity to put the climate movement alongside the Civil Rights and the Vietnam anti-war movements.
16 Sep 14 - * More than 500 Korean firms face CO2 emissions cap * Carbon markets gaining momentum in the US * Fracking workers exposed to dangerous amounts of benzene, study says * France aims for 'energy...
16 Sep 14 - The unprecedented drought affecting São Paulo, South America's giant metropolis, is believed to be caused by the absence of the "flying rivers" - the vapour clouds from the Amazon that normally bring...
16 Sep 14 - By TIM RADFORD.- The news is enough to make climate campaigners choke on their high-fibre breakfast cereal: if Americans adopted the dietary guidelines suggested by their own Department of...
8 Sep 14 - With nearly $2 billion pledged in sustainable development partnerships, the United Nations last week wrapped up its small island developing states conference in Samoa and kicked off a drum roll of...
8 Sep 14 - UN Secretary-General Ban Ki-moon is attempting to prevent world leaders sleepwalking into disaster by asking them to make new pledges at his climate summit this month on cutting greenhouse gases.
8 Sep 14 - * Clinton: America can be clean-energy superpower * High-level shale gas study calls for moratorium on fracking * Chile set to pass Latin America's second carbon tax * Judge rules BP was grossly...
8 Sep 14 - An explosive new book about logging is about to rock Malaysia's corridors of power.
8 Sep 14 - Exactly a year ago, the world was wrestling with the possibility of another US-led military assault on an Arab state, following the horrific gas attacks in Damascus, Syria.
---