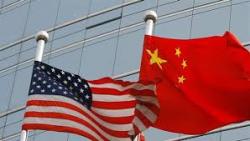 Monday - It's been called an historic agreement − a game changer in the battle to combat climate change. But can China and the US fulfill the promises in their announcement of plans to cut carbon emissions?

Monday - "As I read the agreement it requires the Chinese to do nothing at all for 16 years while these carbon emissions regulations are creating havoc in my state and around the country." – US Republican Senate leader Mitch McConnell, November 12, 2014.

Monday - Focusing on growth, the Brisbane G20 leaders' summit has not grappled with three key issues - how much more growth the planet can survive, how poorer nations can raise their living standards to parity with the developed world, and how can a fairer distribution of the benefits of growth be realised?

Monday - * New Commission floats first 'kill list' of green EU laws * India feels heat as pressure mounts to deliver climate target * Global meat demand ploughs up Brazil's 'underground forest' * Giant batteries connected to the grid: the future of energy storage? * Hyundai, Kia to triple range of green cars by 2020

Monday - Australia's Commercial Building Disclosure programme is the latest federal environmental policy to be placed under review.

10 Nov 14 - The role of the United States in confronting the global climate crisis has been cast into serious doubt after an election that stacked the deck in Congress in favor of fossil fuel industries.

10 Nov 14 - The environment has long been a "silent casualty of war, United Nations Secretary-General Ban Ki-moon said yesterday as he warned that the fast-changing dynamic of conflict required solutions to support peace and sustainable development.
---
10 Nov 14 - * Why the climate movement needs to get confrontational * Govt bid to strip Tasmanian forests of world heritage cover 'disappointing' * The world's 10 biggest tidal power projects * Energy storage...
10 Nov 14 - If you don't like the message on climate change, it seems that the answer is to shoot the messenger.
3 Nov 14 - If left unchecked, climate change will increase the likelihood of severe, pervasive and irreversible impacts for people and ecosystems, says a United Nations report.
3 Nov 14 - With the passage of the Emissions Reduction Fund through the Senate last week, Australia's federal government has taken a step toward achieving the country's minimum target to reduce greenhouse gas...
3 Nov 14 - * Germany may cut coal-fired energy to protect climate * Banks invest record €66bn in coal sector * Airport solar farm will be world's largest * Scotland to open remanufacturing hub to cash in on...
3 Nov 14 - Growing urban areas will need better planned and better managed environments or risk exacerbating negative trends, the United Nations has warned.
3 Nov 14 - Tentative steps have been taken by China and the United States towards co-operating on climate change − mainly focusing on relatively modest technological schemes connected with more efficient...
3 Nov 14 - Insurance is all about assessing risk, so you might expect companies in the sector to be intimately involved with one of the most potent risks facing the world – the possibility of catastrophic...
3 Nov 14 - By JACK PEZZEY.- "But who do you think's right, Prof? The optimists or the pessimists?" At the end of my sustainability economics course in 2007, students were challenging me to end 20 years of...
28 Oct 14 - A European Union goal to cut greenhouse gases by 40 per cent by 2030 sets the pace for a global deal to tackle climate change, pitting heavy industry against green business.
28 Oct 14 - * Carmakers prepare to shift to hydrogen fuel cells * New York Green Bank in debut clean energy transactions * Off-grid German village runs on wind and sun * UK to axe solar farm subsidies in...
28 Oct 14 - Oil and coal producers in the United States are planning to use mile-long tanker trains to transport vast quantities of fossil fuels to the coast through areas that environmental groups believe...
---