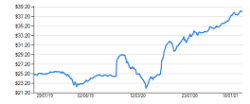 Tuesday - Spot NZUs opened at $38.20 bid and $38.60 offered on CommTrade this morning, after last fixing at $38.40.

Tuesday - Welcome to 2021 – the year in which we will get our first hard look at the size of the job in front of us.

Tuesday - Simulated auctions of NZUs to test the new regime will be held tomorrow and on Thursday.

Tuesday - Ten years ago, hackers using a bomb scare as a diversion stole $15 million worth of carbon credits.

Friday - The United States' return to the Paris Agreement is vital to the next round of negotiations, says former New Zealand climate ambassador Dr Adrian Macey.

13 Jan 21 - Simulated auctions of NZUs will be held on January 27 and 28 to test whether the country is ready for the new auctioning regime.

12 Jan 21 - New Zealand's average temperatures continue to climb, with latest climate data showing 2020 was one of the country's warmest years on record.
---
21 Dec 20 - The first Government auction of carbon credits, scheduled for March 17, will take place with a technical reserve price in place after all.
21 Dec 20 - Merry Christmas and a happy new year to all our readers. Carbon News publishes daily market updates over the summer break and will cover any major breaking stories. We will return to full production...
14 Dec 20 - Believe it or not, a 54 per cent rise in the price of NZUs this year does not make 2020 the year of the biggest gains.
14 Dec 20 - A training course on how to take part in the first Government auction of carbon credits will be held on Thursday.
14 Dec 20 - Ten years ago, farmers were pushing the Government to take agricultural emissions out of the Emissions Trading Scheme.
11 Dec 20 - A major shareholder in New Zealand's only oil refinery says it should be converted to producing renewable fuels.
11 Dec 20 - New Zealand has again come in at 11th place overall in an international ranking of the environmental and social sustainability of countries.
11 Dec 20 - Officials will represent New Zealand at this weekend's Sprint to Glasgow event marking the fifth anniversary of the Paris Agreement.
11 Dec 20 - The Government is expected to update Southland today on talks to stop – or at least delay – the closing of the Tiwai Point aluminium smelter.
11 Dec 20 - Ten years ago, business leaders were ready to push ahead without the Government in developing a clean-tech plan for the country,
10 Dec 20 - A second regional authority is calling for non-forestry carbon sequestration like wetland restoration to earn carbon credits.
10 Dec 20 - Spot NZUs have hit $38 just two days after reaching $37, tempting sellers back into the market.
---