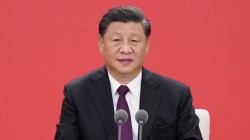 Tuesday - Chinese President Xi Jinping slammed the European Union's plan for a carbon border levy in a call with the leaders of France and Germany on Friday (16 April), according to state media.

9 Apr 21 - When President Xi Jinping committed China to achieving carbon neutrality by 2060 at the UN General Assembly, this was good news for many, including electric vehicle manufacturers and the renewable energies industries. One sector that stands to lose is the coal industry.

8 Apr 21 - China powers nearly 80 per cent of the global cryptocurrencies trade, but the energy required could jeopardise its pledge to peak carbon emissions by 2030.

8 Mar 21 - China will cut energy intensity but has stopped short of setting a cap on energy use in its new development plan.

2 Mar 21 - Official Chinese government figures show energy, steel and cement consumption rose in 2020, pushing emissions up as Beijing is expected to reveal its 2025 targets.

12 Feb 21 - China's National Energy Administration is considering an increase in the ambition of the country's clean energy programme this decade.

11 Feb 21 - A Chinese government crackdown on producers and buyers of illegal CFC gases is working, research has found.
---
4 Dec 20 - China's environment ministry is proposing a crackdown on state involvement in building coal power plants abroad, in a report co-authored with international green groups.
1 Dec 20 - The European court of human rights has ordered 33 European governments to respond to a landmark climate lawsuit lodged by six youth campaigners, the Guardian has learned.
1 Dec 20 - Restaurants, e-commerce platforms and delivery firms will be forced to report their utilisation of single-use plastics to the authorities and also submit formal recycling plans, China's commerce...
20 Oct 20 - China has slammed the United States' environmental and climate record, in an extraordinary public attack less than two weeks before Americans go to the polls.
20 Oct 20 - Three weeks after China told the world it is aiming for carbon neutrality, an important study outlines a roadmap to that goal, and challenges along the way.
30 Sep 20 - If China hits its new emissions goal of going carbon-neutral before 2060, it will bring down global warming projections by around 0.2deg to 0.3 degrees Celsius, says Carbon Action Tracker.
18 Sep 20 - China is considering carbon neutrality as part of its long term climate plan, the country's foreign ministry announced following a summit with EU leaders.
31 Aug 20 - Chinese oil and gas company PetroChina is promising to cut greenhouse gas emissions as falling oil prices caused a first-half net loss of $US4.36 billion.
10 Aug 20 - Emissions controls worked perfectly at Chinese plants, until the Clean Development Mechanism dried up.
24 Jul 20 - UN secretary-general António Guterres has urged China to stop funding coal projects, warning the Paris climate agreement goals will slip out of reach if the world fails to deliver a green recovery to...
22 Jun 20 - Environment lawyer Zhang Jingjing has worked in 20 countries since 2015 to help clean up or shut down Chinese-owned mines, power plants or industrial projects.
2 Jun 20 - There were certainly questions asked when Victoria first signed a memorandum of understanding to join China's Belt and Road Initiative in 2018, but it wasn't until the past week that the criticism...
---