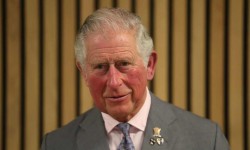 Friday - The Prince of Wales has unveiled a five-point plan to stimulate sustainable economic growth.

Friday - The coronavirus outbreak could trigger a $25 trillion collapse in the fossil fuel industry by accelerating a terminal decline for the world's most polluting companies.

Wednesday - Climate-change-induced weed invasions threaten food production in many countries, including Europe, the United States and Australia, scientists say.

Tuesday - Climate change means many health risks. Any one of them raises the danger. What happens when extreme heat meets bad air?

29 May 20 - There's plenty of room for more of the main greenhouse gas on this planet – as long as it's caught and trapped in carbon storage underground.

27 May 20 - Vital international climate talks due to be hosted by the United Kingdom are expected to be delayed until late next year because of the coronavirus crisis, it has emerged, dashing hopes they could be reconvened sooner.

20 May 20 - The global economic shutdown caused by the covid-19 pandemic cut the world's greenhouse gas by nearly 18 million tonnes a day – and the second-highest rate of reduction was in New Zealand.
---
20 May 20 - Cold War nuclear tests did change the weather in the 1960s. The Earth did not catch fire, but a hard rain did begin to fall.
19 May 20 - Responsible investing and technology will inevitably be the top two megatrends of the 2020s, says the head of one of the world's largest independent financial advisory organisations.
19 May 20 - Two new studies have freshly confirmed an argument unchallenged for more than three decades: the best way to absorb and permanently store carbon from the atmosphere is to restore and conserve...
18 May 20 - Beer and soft drinks could soon be sipped from "all-plant" bottles under new plans to turn sustainably grown crops into plastic in partnership with major beverage makers.
18 May 20 - The coronavirus crisis is deepening inequalities in accessing healthy food, the UN special envoy for food systems has warned.
15 May 20 - Chief executives from more than 330 businesses, including Microsoft, Nike and Visa, are calling on US bipartisan federal lawmakers to build back a better economy from covid-19 by infusing resilient...
15 May 20 - If any image has singularly captured the public's attention during the coronavirus pandemic, it has been The Curve.
14 May 20 - The speed of official reaction to covid-19 has prompted some people to ask whether modern societies can act as fast to protect themselves, not only from another pandemic, but against a possible...
13 May 20 - Sea level rise fueled by man-made climate change threatens to consume half the world's sandy beaches by the end of the century, according to a new study.
12 May 20 - The battle over how to spend recovery funds — to quickly restore the old economy or invest in a greener one — will define the post-pandemic world.
12 May 20 - Extreme heat and humidity are increasing across the globe, threatening millions of lives and economies in places where it could become fatal to work outdoors.
11 May 20 - There's growing agreement by economists and scientists: Covid-19 needs the world to rescue both economy and climate together.
---