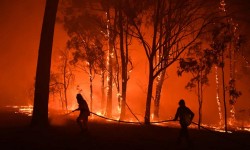 Friday - Oxford Dictionaries has declared "climate emergency" the word of the year for 2019, following a hundred-fold increase in usage that it says demonstrated a "greater immediacy" in the way we talk about the climate.

Friday - When the grid depends on clean but sporadic natural resources like wind and the sun, we're going to need ways to capture any extra energy they produce so we can use it later.

Friday - The European Union last year embarked on a mission to decarbonise the building sector, currently responsible for 40% of the bloc's energy use.

Friday - Increasing the use of bamboo in the building sector could play a big role in fighting climate change, researchers believe.

Thursday - Bill Gates is backing a venture which aims to turn sunlight into a source of heat exceeding 1000degC that could help to replace fossil fuels.

Thursday - Not everyone is convinced that climate sins can be absolved through projects based on simple carbon accounting.

Thursday - California says it won't buy cars from General Motors, Chrysler, Toyota, Nissan and other automakers that are aligning with the Trump administration in its battle over emissions rules.
---
Thursday - Vietnam is rising as Southeast Asia's new wind hero, with power capacity soon to dwarf that of all other Asean nations.
Wednesday - Scientists have developed a "green" cement that could go a long way to cutting the construction industry's emissions and making it more sustainable.
Wednesday - Deforestation in Brazil's Amazon rainforest this year rose to its highest in over a decade.
Wednesday - The overthrow of Bolivian president Evo Morales shows how the politics of environmentalism and social justice intersect in a silvery-white metal.
Wednesday - Exhausts from dirty heavy oils used in ships leave a telltale trail of such dense cloud that they can be tracked from space.
Wednesday - The global climate crisis could lead to more renewable electricity being generated by spurring faster wind speeds for the growing number of windfarms.
Tuesday - US political firebrands Alexandria Ocasio-Cortez and Bernie Sanders have unveiled the next step to their Green New Deal plan with a bill focused entirely on reimagining public housing.
Tuesday - The German lower house has approved a major climate protection package which aims to ensure the country will meet its 2030 target for reducing greenhouse gas emissions.
Tuesday - Shopper numbers in UK city centres are falling, leaving car parks empty – and councils are finding innovative ways to repurpose the space.
Tuesday - William Nordhause was awarded the 2018 Nobel Prize in Economics. But his predictions of what global heating will cost us are dangerously at odds with the science.
Tuesday - In Brooklyn, they're making vodka without potatoes or grains. The key ingredients are hydrogen and captured carbon dioxide.
Monday - The European Investment Bank will stop funding fossil-fuel projects at the end of 2021, a landmark decision that potentially deals a blow to billions of dollars of gas projects in the pipeline.
---