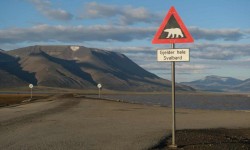 Thursday - The past decade was the hottest ever recorded globally, with 2019 either the second or third warmest year on record, as the climate crisis accelerated temperatures upwards worldwide, scientists have confirmed.

Thursday - PEOPLE who love eating cod might have to change their preferences soon - according to new research published in the Journal of Applied Ecology, global warming may cause a decline in cod populations.

Tuesday - A trio of US researchers has grim news for people worried about climate science's worst case outcome. Forget about the other options. The worst case is already happening.

7 Aug 20 - The human destruction of natural ecosystems increases the numbers of rats, bats and other animals that harbour diseases that can lead to pandemics such as Covid-19, a comprehensive analysis has found

6 Aug 20 - Satellite observations have found a raft of new emperor penguin breeding sites in the Antarctic - welcome news as the species faces increasing pressure from climate change.

5 Aug 20 - Are young trees or old forests more important for removing carbon dioxide from the atmosphere and storing it?

4 Aug 20 - THE COLOUR of the new Scott Base may not be decided, but one thing is clear – the building will be green.
---
31 Jul 20 - Microbes buried beneath the sea floor for more than 100 million years are still alive, a new study reveals.
30 Jul 20 - The biggest science experiment on Earth could avert climate change. But is there still time for nuclear fusion to work?
29 Jul 20 - While greenhouse gases are warming Earth's surface, they're also causing rapid cooling far above us, at the edge of space.
21 Jul 20 - An effective climate change solution may lie in rocks beneath our feet.
3 Jul 20 - As greenhouse gas emissions soar, ocean sensitivity has quietly helped humanity to slow global heating: the seas have responded by absorbing more and more carbon dioxide from the atmosphere.
30 Jun 20 - Geologists have linked one of the planet's most devastating events to the burning of fossil fuels, as ancient coal fires set in train a global extinction wave.
30 Jun 20 - If microplastics can enter the food web on King George Island, they can probably do so almost anywhere on earth.
19 Jun 20 - Hospital operating theatres could be a new frontier in the battle to cut greenhouse gas emissions.
15 Jun 20 - Worst-case global heating scenarios may need to be revised upwards in light of a better understanding of the role of clouds, scientists have said.
12 Jun 20 - Scientists have set a record for carbon capture and storage using new sponge-like technology that can capture carbon directly from the air.
11 Jun 20 - Chemical engineers have found a new way to turn carbon dioxide emissions from cement-making and other industrial processes into useful products like fuel and plastics.
8 Jun 20 - As graphs go, the Keeling Curve is simple, but it clearly illustrates the planet's vexing global warming challenge.
---