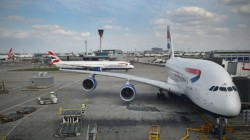 Wednesday - A major airline has launched a review into a money-saving practice which increases its greenhouse gas emissions.

Wednesday - Formula One has pledged to deliver on an ambitious programme to address the global climate emergency by going carbon neutral within 11 years.

Wednesday - A new battery technology that could significantly reduce the price of electric cars and home battery systems has taken a major step towards commercialisation.

Tuesday - Africa is poised to lead the world's cleanest economic revolution by using renewable energy sources to power a massive spread of urbanisation, says a new report.

Tuesday - BMW has called for European policymakers to roll out electric vehicles on a massive scale, saying its customers are turning to e-cars - and loving them.

Tuesday - Italian school pupils in every grade are about to become the first required to study climate change and sustainability.

Tuesday - As crop varieties disappear, boosting biodiversity becomes smart business.
---
Monday - The battle between climate change deniers and the environment movement has entered a new, pernicious phase. That is the stark warning of one of the world's leading climate experts, Michael Mann.
Monday - Lawyers for New York State and ExxonMobil have wrapped up a landmark climate fraud trial, shaping a tangle of testimony and evidence.
Monday - Climategate marks its 10th anniversary this month – an opportune moment to to look at the effect it had on those who were trying to save the planet.
Friday - Sea levels rose 10 metres above present levels during Earth's last warm period 125,000 years ago, according to new research that offers a glimpse of what may happen under our current climate change...
Friday - In the wake of two years of wildfires in California, Wall Street is incorporating a new risk metric when evaluating companies: climate resiliency.
Friday - Australia's main electricity grid was briefly powered by 50% renewable energy this week in a new milestone that experts say will become increasingly normal.
Friday - Honolulu mayor Kirk Caldwell wants the city to sue major oil companies for the damage he says they have done to the island of Oahu.
7 Nov 19 - British Petroleum believes there's an "80 percent overlap" between the oil giant's ambitions and those of Extinction Rebellion.
7 Nov 19 - Lost and abandoned fishing gear which is deadly to marine life makes up the majority of large plastic pollution in the oceans, according to Greenpeace.
6 Nov 19 - Cities are testing new systems to reduce the pollution and congestion caused by of the final leg of a package's journey from warehouse to doorstep.
6 Nov 19 - BY JOE STANLEY | As a cattle farmer I come under constant criticism, but UK livestock production is among the most sustainable in the world.
6 Nov 19 - Why is the clean, green hydrogen technology lagging far behind the hybrid and all-electric sectors of the car industry?
---