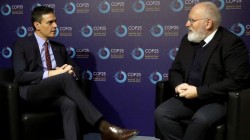 Tuesday - The Spanish government has submitted its energy and climate plan for 2030 to the European Commission, three months after the deadline, while five EU countries, including France, still need to turn in their strategies.

24 Mar 20 - By MARK VICTORY | Concerns over the long-term impact of the coronavirus outbreak on key European recycling markets sharply escalated this week, following the adoption of further containment measures across the continent.

13 Mar 20 - Europe's agricultural sector has barely managed to reduce its emissions since 2018, according to a report by the European Environment Agency.
13 Mar 20 - Greenpeace Poland has filed a lawsuit today against the largest carbon emitter in the country, demanding that the company stop any further fossil fuel investments and achieve net zero greenhouse gas emissions from its existing coal plants by 2030.

12 Mar 20 - A majority of European citizens would support a ban on short-distance flights to fight climate change, according to a new survey.

11 Mar 20 - Plans for an EU-wide hydrogen alliance were confirmed yesterday when the European Commission unveiled its new industrial strategy.

10 Mar 20 - The EU's new industrial strategy, due out today, is an opportunity to shake up more than a decade of lethargic progress in cutting greenhouse gas emissions from Europe's heavy industries.
---
10 Mar 20 - Trade unions have stepped up warnings that the Green Deal put forward by the European Commission in December last year could put 11 million jobs at risk.
6 Mar 20 - Two European scientists have proposed the ultimate flood barrier: they want to dam the North Sea and the English Channel with more than 600 kilometres of sea wall.
5 Mar 20 - Net-zero emissions by 2050 is set to be a legally binding objective for all 27 EU member states, according to the bloc's first climate law.
4 Mar 20 - The European Commission has revealed which countries are eligible to split a €7.5 billion-strong climate fund, earmarked for spending on cleaning up heavy industry and supporting workers in the...
3 Mar 20 - The European Investment Bank is promising to help to boost climate and environment funding.
28 Feb 20 - The Netherlands is under pressure to slash emissions in sectors such as power generation and agriculture after a ruling by a top court made the government a reluctant test case for tougher global...
18 Feb 20 - The European Commission will aim to "absolutely decouple" economic growth from natural resource use in a draft circular economy action plan due to be unveiled in March.
18 Feb 20 - More than 20 of Europe's airports could be under water by the end of the century if current climate trends continue.
12 Feb 20 - A series of detailed maps have laid bare the scale of possible forest fires, floods, droughts and deluges that Europe could face by the end of the century without urgent action to adapt to and...
10 Feb 20 - Europe is falling well behind in the race to install enough solar power to keep the rise in global temperatures below dangerous levels, and to reach its own renewable energy targets.
5 Feb 20 - European and US scientists have a root-and-branch answer to the challenge of tomorrow's cities: switch to wood construct timber buildings and reduce the risk of even more devastating global...
30 Jan 20 - An Oslo appeals court has endorsed Norway's plan for new oil and gas exploration in the Arctic.
---