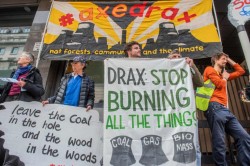 Wednesday - G20 countries have almost tripled the subsidies they give to coal-fired power plants in recent years. G20 countries have almost tripled the subsidies they give to coal-fired power plants in recent years.
19 Jun 19 - Some of the major oil producers have pledged to support "economically meaningful" carbon pricing regimes after a personal appeal from Pope Francis.

19 Jun 19 - Engineers say there is no technical reason why hydrogen cannot replace natural gas to make electricity, heat homes and for cooking.

18 Jun 19 - A depressing picture of global power generation has coal still firmly on top. And in a vicious cycle, the very heatwaves and winter freezes that high carbon emissions cause seem to be increasing them.
14 Jun 19 - The repeated shut-down of the country's largest gas field for maintenance has led to a surge in greenhouse gas emissions from coal-burning.

11 Jun 19 - For the builders of hydro-electric schemes – usually multi-billion dollar projects involving vast amounts of complex engineering work – changing rainfall is a serious problem.

10 Jun 19 - Former BP chief John Browne talks about squaring his business dealings with his personal convictions – and what he would say to Greta Thunberg.
---
10 Jun 19 - The world's appetite for natural gas grew at the fastest pace since 2010 last year, but that blockbuster growth is shifting into lower gear, according to the International Energy Agency.
28 May 19 - New Zealand's largest private energy company is increasing its investment in renewables.
15 May 19 - Technologies like turning human waste into electricity could meet a large chunk of the Government's 2030 methane reduction target.
3 May 19 - The economic and political energy systems suggest that oil-rich countries of the Arabian Gulf will continue to dominate energy trade even in the post-fossil era.
26 Apr 19 - Dutch engineers are building what will be the world's largest archipelago of islands made up of sun-tracking solar panels.
4 Apr 19 - Hydrogen fuel could replace the Huntly coal and gas-fired power station to give New Zealand a totally renewable electricity generation system, the Helen Clark Foundation says in its first foray into...
28 Mar 19 - Energy generator and retailer Mercury says it is going ahead with what will be the country's third-largest wind farm.
19 Mar 19 - Taranaki is talking up the hydrogen economy to replace its petrochemical wealth.
19 Mar 19 - A new ultra-thin film that absorbs solar energy could revolutionise the harvesting of solar thermal energy.
19 Mar 19 - If you like chocolate you'll love this: the same tree that provides your indulgent treat is helping to slow climate change, thanks to cocoa fuel.
18 Mar 19 - The fuel used to thrust enormous rockets away from Earth's gravitational pull is hydrogen - and it also holds potential as a source of energy for daily activities like driving and heating houses.
18 Mar 19 - A new study contradicts fears that using solar geoengineering to fight climate change could dangerously alter rainfall and storm patterns in some parts of the world.
---