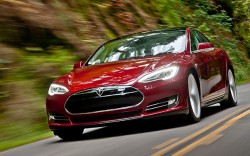 Thursday - Electric vehicles will need to increase their combined market share to 16 per cent by 2020 to achieve the aggressive fuel economy standards set by regulators, according to new research by the World Energy Council.

Tuesday - Massive crewless cargo ships plying the world's oceans may sound far-fetched, but Rolls-Royce has been working on the idea for a number of years and now says it expects the first remotely controlled vessels to be in operation by 2020.

Monday - Sweden just opened a test electric road of two kilometres, which allows electric vehicles to connect to an overhead system similar to light rail.
23 Jun 16 - Road transport has bucked a downward trend in European greenhouse gas emissions, growing by 17 per cent between 1990 and 2014, at the same time that emissions from other sectors fell by almost a quarter.
23 Jun 16 - German automaker BMW has beaten California-based Tesla Motors by winning a contract to supply the Los Angeles Police Department with 100 electric cars.

20 Jun 16 - Transport, Energy and Associate Climate Change Minister Simon Bridges is putting his money where his mouth is – he's buying an electric car.

16 Jun 16 - Harley-Davidson says an electric model is coming within the next five years.
---
15 Jun 16 - Nissan drivers could one day be running their car on electricity created inside the vehicle from bioethanol fuel.
14 Jun 16 - Beijing has recorded the highest ever number of requests for electric vehicle registration - 17,600.
10 Jun 16 - Many of the cruise ships visiting New Zealand fail to meet basic environmental standards, a new report shows.
10 Jun 16 - Ontario will spend as much as $NZ9.1 billion through 2020 to reduce its greenhouse gas emissions, betting big on electric vehicles with rebates of as much as $15,500 a car and 500 charging stations...
8 Jun 16 - The Government sought no advice on whether building major new roads would affect greenhouse gas emissions, documents show.
7 Jun 16 - Leading air carriers have claimed they would support a new market-based scheme to curb emissions – but many remain unconvinced.
3 Jun 16 - New Zealand Post's first electric vans have arrived.
3 Jun 16 - Volkswagen is reportedly considering building its own battery factory as part of a large commitment to electric cars. The company is targeting sales of one million electric cars within 10 years.
3 Jun 16 - A Volvo project, which already has returned fuel cuts of 30 per cent, ultimately aims to double long-haul truck efficiency through aerodynamic and other fuel-saving features.
25 May 16 - A Green government would fund rail from taxes, with an aim of getting half of the country's total freight off roads by 2027.
25 May 16 - Carmaker Hyundai is designing an electric vehicle with a 250-mile range for 2020.
24 May 16 - The Government should fine people buying fossil fuel-burning vehicles and give the money to people who buy clean electric vehicles, says Waikato University's professor of law.
---