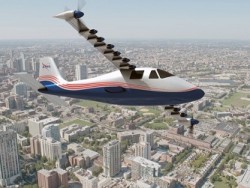 Today 10:00am - After 12 years of planning and testing, Solar Impulse has finally completed its epic voyage around the world.
Wednesday - New Zealand is looking to join an international plan to cut greenhouse gas emissions from aircraft.

Wednesday - Solar Impulse 2 has completed the first round-the-world flight by a solar-powered aeroplane, after touching down in Abu Dhabi.
Wednesday - The new Mayor of London, Sadiq Khan, is in the process of securing a licence to provide "clean energy" for London tube stations.
Tuesday - The Environmental Protection Agency has declared that jet engine exhaust endangers public health by contributing to climate change, a key milestone as it works to develop regulations that will cut carbon emissions from commercial aircraft.
22 Jul 16 - Tesla Motors has outlined a new model for vehicle sharing and disclosed plans for several new electric vehicles, including much heavier trucks.
22 Jul 16 - Governments are being urged to support a proposed United Nations carbon offset scheme to ensure airlines can tackle climate change at a global level.
---
21 Jul 16 - Audi will aim for electric cars to account for a quarter of its sales by 2025 as part of a strategic overhaul following the emissions scandal at parent Volkswagen Group, company sources said, in a...
14 Jul 16 - An agreement on curbing emissions from international flights will be reached at the ICAO general assembly this year, according to industry sources, while biofuels continue to struggle to emerge as a...
13 Jul 16 - Toyota says it will import second-hand Prius plug-in hybrids to meet what it sees as a gap in the market for "reasonably priced" low-emissions vehicles.
11 Jul 16 - Volkswagen has told the US Department of Justice that it will be paying nearly $15 billion in an effort to settle claims made by motorists in the US following the scandal over vehicle emissions.
8 Jul 16 - New Zealand's transport emissions are expected to increase at the very time they need to fall to meet the country's Paris Agreement target, a new analysis shows.
7 Jul 16 - Older, dirtier cars will have to pay a £10 pollution charge to drive in central London, according to plans set out by Lord Mayor Sadiq Khan.
6 Jul 16 - Paris has banned old polluting cars from the streets as part of its efforts to combat air pollution.
1 Jul 16 - With the rise of popularity of e-bikes, Germany is building the world's biggest bicycle "autobahn" of 62-miles, connecting 10 cities.
30 Jun 16 - Electric vehicles will need to increase their combined market share to 16 per cent by 2020 to achieve the aggressive fuel economy standards set by regulators, according to new research by the World...
28 Jun 16 - Massive crewless cargo ships plying the world's oceans may sound far-fetched, but Rolls-Royce has been working on the idea for a number of years and now says it expects the first remotely controlled...
27 Jun 16 - Sweden just opened a test electric road of two kilometres, which allows electric vehicles to connect to an overhead system similar to light rail.
23 Jun 16 - Road transport has bucked a downward trend in European greenhouse gas emissions, growing by 17 per cent between 1990 and 2014, at the same time that emissions from other sectors fell by almost a...
---