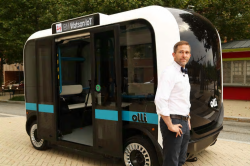 Friday - Columbus, Ohio, is a mid-size city known primarily as the home of Ohio State University, not as a hub of cutting edge technology for public transportation. But that is exactly what this city of 790,000 people plans to be.

Thursday - Nine men and one woman have been appointed to the Government's Electric Vehicles Leadership Group.

Thursday - Electrifying transportation is one of the most promising ways to significantly cut greenhouse gas emissions from vehicles, but so-called range anxiety – concern about being stranded with an uncharged car battery – remains a barrier to electric vehicle adoption.

Wednesday - A total of 91,300 electric vehicles were sold in Europe in the first six months of this year – a 21 per cent year on year increase.

22 Aug 16 - Replacing a million fossil fuel-driven cars with electric vehicles would cut New Zealand's greenhouse gas emissions by more than 20 per cent in the crucial 2021-2030 period, officials say.
22 Aug 16 - Two self-driving buses will carry people during a one month trial on the public roads in Helsinki, Finland.
18 Aug 16 - The Airbus Group is developing an autonomous flying vehicle platform as a solution for growing surface-transport gridlock in cities.
---
18 Aug 16 - The Obama Administration has issued a new rule requiring heavy-duty trucks, such as tractor trailers, buses, and garbage trucks, to be more fuel efficient.
15 Aug 16 - The Government is offering money for projects to help to switch the nation's fleet to electric vehicles.
15 Aug 16 - China will consider mandates that carmakers produce more electric vehicles or purchase carbon credits from their peers, potentially emulating California's system and transitioning from a...
10 Aug 16 - A German company has run the first train in the country with a zero-carbon footprint by using an innovative environmental project in Rwanda to offset emissions.
8 Aug 16 - Power distributor Vector has launched an interactive map to help Auckland motorists to find the nearest electric vehicle charging station.
8 Aug 16 - Nearly 2000 people in Germany have applied for the government's electric car discount scheme, introduced on July 1, and a third of them are buyers of BMW models.
5 Aug 16 - Sourcing biofuels to replace oil will cost billions, but without radical cuts in air traffic or improvements in technology it may be the only solution to cut airline emissions.
5 Aug 16 - China is testing a 2m-high bus which runs on electricity and straddles the cars below, allowing them to pass underneath uninterrupted.
5 Aug 16 - Public electric vehicle charge points will outnumber petrol stations in the UK by the end of the decade, marking a potential tipping point in the adoption of zero emission vehicles.
4 Aug 16 - A Singapore start-up is attempting to develop the world's first driverless taxis.
3 Aug 16 - A deal to limit carbon emissions from global civil aviation could be voluntary for the first five years instead of mandatory for certain countries under the current proposal.
3 Aug 16 - Individuals are offer their charging stations to the public, to fill gaps in commercial recharging networks.
---