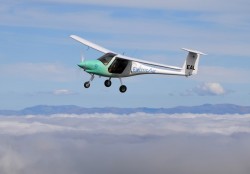 Friday - New Zealand's first electric plane will take to the skies today.

Thursday - After decades spent extracting fossil fuels from the UK's North Sea, a consortium of oil companies is preparing to pump Britain's greenhouse gas emissions back beneath the seabed to help meet the government's climate ambitions.

23 Oct 20 - Electric cars will cost the same to make as conventional cars, with internal combustion engines, by 2024, according to new research.

12 Oct 20 - Leaded documents show Exxon plans to increase its carbon production by 17 per cent by 2025 - an increase equivalent to the total annual emissions of Greece.

5 Oct 20 - Refining New Zealand has confirmed cost-cutting measures for next year, but says a decision on whether to stop refining operations altogether is still a while away.

18 Sep 20 - Portable emissions-free "power plants" could soon hit the road under plans by Toyota to fit some of the company's light-duty trucks with hydrogen fuel cells that can generate electricity.

7 Sep 20 - Fuel retailer Z Energy says direct intervention is the fastest and most effective way to decarbonise the transport sector.
---
7 Sep 20 - Flying is responsible for 3.5 per cent of global emissions, scientists say in new research.
26 Aug 20 - Elon Must once said that one day, all transportation will be electric, except for rocks. Yes, that even includes aeroplanes, which have long been on his list of things to electrify.
19 Aug 20 - With start-up electric vehicle companies coming thick and fast, California's Canoo is targeting its broke, urban Millennial market by putting a couch in the back of its prototypes.
11 Aug 20 - Hyundai to build three new EV models - including two new electric SUVs - under revamped and expanded Ioniq electric brand.
7 Aug 20 - The Government is putting $20 million into establishing a national network of hydrogen fuelling-stations.
6 Aug 20 - Greenhouse gas emissions from shipping increased by 9.6% from 2012 to 2018, as rising demand outweighed efficiency improvements.
5 Aug 20 - There aren't enough batteries in the world to electrify all the cars, so instead we should be focusing on trucks and buses.
3 Aug 20 - Air travel is resuming on many routes as restrictions to contain the spread of coronavirus ease.
31 Jul 20 - Rail operators could make big savings by choosing electric battery power over hydrogen fuel cells when replacing diesel engines, a new study has suggested, although the ever-changing price of energy...
29 Jul 20 - Europe's major airlines are likely to see their turnover drop by 50 per cent this year as a result of the covid-19 pandemic, while European airports expect to welcome 700 million fewer passengers.
27 Jul 20 - The world enjoyed cleaner air and clearer skies earlier this year as streets and highways largely emptied during coronavirus-related lockdowns. The sharp decline of oil-burning vehicles gave a...
24 Jul 20 - Electric vehicle-maker Tesla has posted its first full-year profit – not just beating analyst expectations but also cementing its position as the most valuable automaker in the world and highlighting...
---