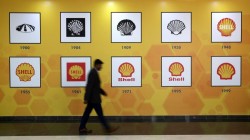 Thursday - Oil and gas companies throughout the supply chain need to do much more to bring down methane emissions immediately, says Shell's new-energies director Maarten Wetselaar.
28 May 20 - It's now official: the EU's updated seven-year €1 trillion budget proposal and €750 billion recovery plan will both be geared towards the green and digital transitions.

21 May 20 - Denmark plans to build two "energy islands" totalling 4GW of offshore wind capacity, under plans to reduce emissions by 70 per cent from 1990s levels by 2030 and become a green energy exporter.

20 May 20 - The European Commission this week will launch a sweeping effort to tackle the global biodiversity crisis, including a call for three billion trees to be planted by 2030 and a plan to better protect the continent's last primeval forests.

20 May 20 - Spain's Cabinet is set to approve a bill setting out a path to reduce greenhouse gas emissions to net-zero by 2050, putting it on course to join a handful of wealthy nations that have written the target into law.

6 May 20 - Last month, the Dutch government announced a bold set of climate policies designed to reduce annual carbon emissions by nearly 10 megatons.

30 Apr 20 - Germany's main court for civil and criminal matters will hear a diesel emissions scandal case for the first time next week.
---
30 Apr 20 - Germany's environment minister has defended a planned bailout of the country's largest airline to protect jobs in the short term, insisting the next phase of post-coronavirus recovery will be green.
29 Apr 20 - Germany and Britain say that efforts to revive the global economy in the wake of the coronavirus pandemic must ensure a 'green recovery' that helps the world to tackle climate change.
28 Apr 20 - The Dutch government has announced measures including huge cuts to coal use, garden greening and limits on livestock herds as part of its plan to lower emissions to comply with a supreme court ruling.
28 Apr 20 - The energy that has powered Europe for several hundred years, driving its industry, fighting its wars and keeping its people warm, is on the way out, fast.
23 Apr 20 - The French Government is set to require that all new public buildings must be made at least 50 per cent from wood or other sustainable materials from 2022 as it pushes for sustainable urban...
21 Apr 20 - Paris and Berlin have added their names to a growing list of EU capitals asking for the European Green Deal to be placed at the heart of the EU's post-pandemic recovery plan.
21 Apr 20 - Norway, a country fuelled by hydropower, has become the world's electric vehicle leader.
15 Apr 20 - BlackRock, one of the world's largest investors in banks and fossil fuel companies, has been hired by the EU to work on potential new environmental rules for banks.
7 Apr 20 - The Spanish government has submitted its energy and climate plan for 2030 to the European Commission, three months after the deadline, while five EU countries, including France, still need to turn in...
24 Mar 20 - By MARK VICTORY | Concerns over the long-term impact of the coronavirus outbreak on key European recycling markets sharply escalated this week, following the adoption of further containment measures...
13 Mar 20 - Europe's agricultural sector has barely managed to reduce its emissions since 2018, according to a report by the European Environment Agency.
13 Mar 20 - Greenpeace Poland has filed a lawsuit today against the largest carbon emitter in the country, demanding that the company stop any further fossil fuel investments and achieve net zero greenhouse gas...
---