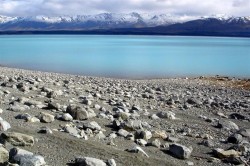 13 Dec 19 - Greenhouse gas emissions jumped in the last part of the year as low lake levels forced the country to burn coal to make electricity.

12 Dec 19 - State schools, hospitals and science institutes are moving out of coal.

4 Dec 19 - Businesses say a hydrogen-export industry drastically cutting emissions from fossil fuels could be stymied by red tape and a failure to recognise the value of "blue" hydrogen.

29 Nov 19 - The world's use of coal-fired electricity is on track for its biggest annual fall on record this year after more than four decades of near-uninterrupted growth that has stoked the global climate crisis.

22 Nov 19 - It might not be on the scale of Mercury's Turitea project, but New Zealand's newest windfarm, on Stewart Island, will make a dent in the country's greenhouse gas emissions.

22 Nov 19 - When the grid depends on clean but sporadic natural resources like wind and the sun, we're going to need ways to capture any extra energy they produce so we can use it later.

21 Nov 19 - Bill Gates is backing a venture which aims to turn sunlight into a source of heat exceeding 1000degC that could help to replace fossil fuels.
---
13 Nov 19 - Mercury is going ahead with plans to build the country's largest windfarm.
1 Nov 19 - Government plans for a report into the potential to use wood to make bioproducts is being hailed by those pushing for a biofutures industry.
23 Oct 19 - Global supplies of renewable electricity are growing faster than expected and could expand by 50 per cent in the next five years, powered by a resurgence in solar energy.
17 Oct 19 - High carbon prices could hinder electrification of New Zealand's energy sector, the country's largest electricity retailer says.
16 Oct 19 - Shell CEO Ben van Beurden has warned of the consequences of rejecting oil and gas too quickly.
14 Oct 19 - How will Big Oil adapt as fossil fuel demand wanes with the rise of renewable energy and battery power? The answer is plastic.
1 Oct 19 - With new plants costing from five to 10 times more than renewable options, and taking far longer to build, nuclear power cannot help against global warming.
27 Sep 19 - New Zealand has burnt more coal to make electricity this winter than in any June quarter since 2014.
10 Sep 19 - An Australian thermal energy storage company has reached in-principle agreements to pilot thermal batteries in the telecommunication and eco-housing industries.
2 Sep 19 - Last week it was lithium and cobalt in the Government's sights; this week it's hydrogen.
30 Aug 19 - US and European researchers have shown the way to an era of cheap and plentiful renewable energy on a massive scale.
29 Aug 19 - BP is selling all of its Alaska operations to Hilcorp, a privately-owned company with a troubled safety and environmental track-record.
---