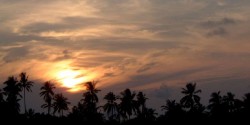 Wednesday - Scientists have just been presented with new evidence on how tropical clouds' climate impact affects rates of global warming, and therefore need to be factored into computer simulations of climate change over the next century.

Tuesday - Geologists have resolved one great problem about the capture of carbon dioxide from coal-fired or gas-fired power stations and its sequestration deep in the Earth, with what appears to be the prospect of rock-solid carbon storage.

16 Aug 16 - Ocean acidification caused by climate change might already be affecting production in New Zealand's marine farms, scientists say.

16 Aug 16 - Thirteen per cent of the world's vegetation has changed its biome, or category, over the past 30 years, new research shows.
16 Aug 16 - Wide-scale disruption from warming oceans is increasing, but they could change our understanding of the climate.
15 Aug 16 - Researchers from US multinational International Business Machines say they found a way to create cheaper and biodegradable plastics.

11 Aug 16 - Artificial photosynthesis could be used to store carbon dioxide in synthetic "leaves".
---
9 Aug 16 - Mangroves might be one of the world's most viable solutions to fighting climate change.
4 Aug 16 - Temperatures in New Zealand have been 1.3deg above average for the first seven months of this year.
3 Aug 16 - The dip in atmospheric carbon dioxide levels during the Little Ice Age wasnt caused by New World pioneers cutting a swathe through native American agriculture, as had been previously thought.
1 Aug 16 - A New Zealand political scientist is to join a crucial planning meeting on how the world's scientific community should respond to the challenge of limiting global warming.
1 Aug 16 - A heat wave in the Middle East has sent temperatures soaring to heights that are rarely seen even there. On July 21, Mitribah, Kuwait, recorded a temperature of 54degC.
1 Aug 16 - The unseasonably warm weather is likely to continue, with forecasters saying there is a 65 to 70 per cent chance that the next three months will be warmer than usual.
27 Jul 16 - By TYLER SHENDRUK | Many of society's energy challenges require gigawatts of power, but many more are small – and some are entirely microscopic.
25 Jul 16 - Winter temperature records across the country continue to tumble, with Auckland as warm on Saturday night as a night in November.
25 Jul 16 - An Australian company is using "cheap as dirt" iron ore to convert methane in natural gas into hydrogen generating near-zero emissions.
19 Jul 16 - Evidence of increased greening of the northern hemisphere over the past half-century points to the dominant effect human-induced greenhouse gases have on climate.
12 Jul 16 - By JOELLE GERGIS | In May 2012, my colleagues and I had a paper accepted for publication in the Journal of Climate, showing that temperatures recorded in New Zealand and Australia since 1950 were...
12 Jul 16 - By TIM RADFORD | It is not enough just to conserve forest. It may be just as important not to disturb any of it.
---