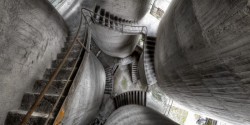 Monday - Three new studies illuminate the sheer complexity of the aspect of climate science known as the carbon cycle − how carbon dioxide gets into the atmosphere and out again.

25 Nov 16 - Biodiversity is not just a conservationist ideal, it is a high-value strategy, according to new research. It makes forests more productive, and could deliver up to $500bn a year in wealth across the planet.

24 Nov 16 - Donald Trump is poised to eliminate all climate change research conducted by Nasa as part of a crackdown on "politicised science", says a senior adviser.

23 Nov 16 - Parts of New Zealand are sinking at faster rates than others and will be subjected to higher levels of future sea level rise, new research from Victoria University of Wellington suggests.

23 Nov 16 - As summers get hotter, seas get warmer and extreme wind and rainstorms inflict ever-greater loss of human life and property, the World Meteorological Organisation is trying to develop an early warning system for vulnerable countries.

23 Nov 16 - The sun set on the North Pole more than a month ago, not to rise again until spring. But stange things are happening.

16 Nov 16 - The European Union will be forced to import organic waste, such as cow dung and wood, if it does not limit the amount of bioenergy that can count toward its renewable energy targets.
---
15 Nov 16 - Climate change has already begun to alter the world's ecosystems – at sea, in rivers and lakes, and in the forests and meadows on land, according to an international team of scientists.
10 Nov 16 - By mid-century, the woodlands, grasslands and shrubs of Europe and North America will have changed.
9 Nov 16 - New research reveals that the ability of New Zealand's land biosphere to absorb carbon could be 50 per cent more than currently estimated.
8 Nov 16 - Two scientists have worked out what it would take to melt all the ice in the Arctic Ocean.
7 Nov 16 - Voters who feel good about life – whether it is to do with their job, their marriage or even the success of their sports team – are more likely to support their politicians.
4 Nov 16 - The global watchdog responsible for protecting the world's wealth of species, the UN's Convention on Biological Diversity, has looked at the hopes for reining in climate change through...
27 Oct 16 - Climate change makes it at least three times more likely that tropical superstorms such as Hurricane Sandy will hit north-eastern cities in the US in coming decades.
19 Oct 16 - The pre-industrial atmosphere contained more particles, and so brighter clouds, than we previously thought.
18 Oct 16 - Brazilian scientists, alarmed at the ongoing destruction of the Amazon rainforest, have proposed a radical plan to save it.
18 Oct 16 - Large white plankton blooms growing east of New Zealand are further evident that the ocean is being affected by climate change, scientists say.
13 Oct 16 - Looking deep into outer space begs an obvious question. Are we alone? It is a question that has preoccupied mankind ever since we became capable of rational thought.
10 Oct 16 - No 10. New Zealand must adapt because some impacts of climate change – especially sea-level rise and flooding - are already unavoidable.
---