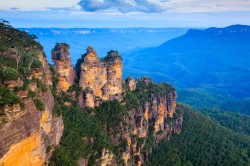 19 Oct 16 - The pre-industrial atmosphere contained more particles, and so brighter clouds, than we previously thought.

18 Oct 16 - Brazilian scientists, alarmed at the ongoing destruction of the Amazon rainforest, have proposed a radical plan to save it.

18 Oct 16 - Large white plankton blooms growing east of New Zealand are further evident that the ocean is being affected by climate change, scientists say.

13 Oct 16 - Looking deep into outer space begs an obvious question. Are we alone? It is a question that has preoccupied mankind ever since we became capable of rational thought.

10 Oct 16 - No 10. New Zealand must adapt because some impacts of climate change – especially sea-level rise and flooding - are already unavoidable.

10 Oct 16 - It's becoming increasingly commonplace to suggest that humans now dominate the planet.
7 Oct 16 - No 9. New Zealanders are in the world's top 10 emitters of greenhouse gases.
---
6 Oct 16 - No 8: The Paris Agreement target is pretty hard to meet.
6 Oct 16 - The vast patch of garbage floating in the Pacific Ocean is far worse than previously thought, with an aerial survey finding a much larger mass of fishing nets, plastic containers and other discarded...
4 Oct 16 - No 7: The tropics are expanding toward us.
4 Oct 16 - This year continues to be a momentous one for the climate, on track to be the new hottest year on record.
4 Oct 16 - Greenland is going up in the world. As the biggest lump of ice in the northern hemisphere melts ever more swiftly, so the bedrock of the enormous island is rising in response to this weight loss at...
4 Oct 16 - A rise in world temperatures of 1.5deg degrees can no longer be avoided, according to the world's leading climate scientists, who say that the majority of people have yet to wake up to the stark...
3 Oct 16 - No 6: Two hundred million people live within one vertical metre of present-day sea-level, and current estimates about future sea-level rise might be on the low side.
30 Sep 16 - No 5: Why are scientists are so sure that the warming is human-induced?
29 Sep 16 - No 4: The poles are warming twice as fast as the rest of the planet.
28 Sep 16 - No 3: The year 2015 was the warmest on record, but the last record cold year was more than a century ago, in 1909.
27 Sep 16 - No 2: Ninety-three per cent of the heat from humans' global warming has gone into the ocean, along with 25 per cent of the carbon dioxide.
27 Sep 16 - During the past decade, American scientist Joel Harper has spent nearly a year of his life on the Greenland ice sheet to study how meltwater impacts the movement of the ice.
---