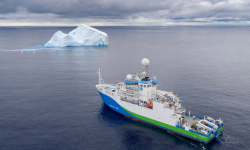 Thursday - Australian scientists are studying air pollution and cloud formation in Antarctica in an effort to understand how non-carbon aerosolised particles impact on global temperatures.

Tuesday - The depletion of oxygen in our oceans threatens future fish stocks and risks altering the habitat and behaviour of marine life, scientists have warned, after a new study found oceanic oxygen levels had fallen by 2 per cent in 50 years.

20 Feb 17 - Glaciers on Canada's Queen Elizabeth Islands are melting at an ever faster rate. Between 2005 and 2015, ice loss accelerated massively from three billion tonnes a year to 30 billion, according to new research.

20 Feb 17 - Knowing the rate at which the oceans absorb carbon pollution is a key to understanding how fast climate change will occur.

17 Feb 17 - New research explains why some of New Zealand's glaciers have been growing, despite the impacts of climate change.

17 Feb 17 - Climate change may be about to set a trap for African penguins and send them foraging for food in places that the fish have departed, according to satellite trackers.

15 Feb 17 - Here are some surprising facts about humans' effect on planet Earth. We have made enough concrete to create an exact replica of Earth 2mm thick. We have produced enough plastic to wrap Earth in clingfilm. We are creating "technofossils", a new term for congealed human-made materials – plastics and concretes – that will be around for tens of millions of years.
---
14 Feb 17 - Ski resorts all over the world are increasingly turning to expensive snow-making machines as the climate warms. This method uses so much fuel that it contributes to global warming.
9 Feb 17 - A warming climate will fundamentally change the chemistry of mountain soils by shifting the balance of nutrients, visibly disrupting fragile, high-elevation ecosystems of grasses, flowers and trees...
8 Feb 17 - A group of distinguished climate scientists has called for a massive international co-operation to understand absolutely basic climate change.
1 Feb 17 - On top of another record hot year globally, and as heatwaves become more frequent and intense, our cities are making us even hotter.
27 Jan 17 - Walk into your typical US or UK grocery store and feast your eyes on an amazing bounty of fresh and processed foods. In most industrialised countries, it's hard to imagine that food production is one...
27 Jan 17 - Beaches strewn with plastic waste have become a graphic illustration of just how much plastic we use in everything from food packaging to cosmetics, and how much of it gets thrown away.
26 Jan 17 - People collapse, buildings collapse, economies collapse and even entire human civilizations collapse. Collapse is also common in the natural world – animal populations and ecosystems collapse.
25 Jan 17 - Ocean acidification is an inevitable consequence of increasing carbon dioxide in the atmosphere. That's a matter of fact. We don't know exactly what will happen to complex marine ecosystems when...
21 Dec 16 - Climate change is already beginning to alter the natural world. A study of 976 plant and animal species worldwide – freshwater, terrestrial and marine – reveals that local extinctions have happened...
20 Dec 16 - A year is a short time in science but a lot happened in 2016.
20 Dec 16 - Scientists have published a set of unprecedented ocean observations near the largest glacier of the largest ice sheet in the world: Totten glacier, East Antarctica. And the result was a troubling...
15 Dec 16 - Scientists have calculated the mass of that unnatural achievement called the "technosphere", demonstrating the scale of human activity that drives climate change.
---