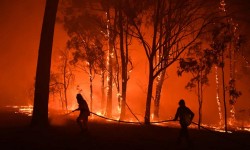 Friday - Oxford Dictionaries has declared "climate emergency" the word of the year for 2019, following a hundred-fold increase in usage that it says demonstrated a "greater immediacy" in the way we talk about the climate.

Friday - Increasing the use of bamboo in the building sector could play a big role in fighting climate change, researchers believe.

Monday - Methane emissions leaking from the world's coalmines could be stoking the global climate crisis at the same rate as the shipping and aviation industries combined.

15 Nov 19 - In a world that has failed to address climate change, children will face increased risk of developing asthma, greater exposure to vector-borne disease, and anxiety.

14 Nov 19 - The Earth is experiencing an extinction crisis largely due to the exploitation of the planet by people. But can this event be called a mass extinction?

13 Nov 19 - Formula One has pledged to deliver on an ambitious programme to address the global climate emergency by going carbon neutral within 11 years.

12 Nov 19 - Italian school pupils in every grade are about to become the first required to study climate change and sustainability.
---
12 Nov 19 - As crop varieties disappear, boosting biodiversity becomes smart business.
11 Nov 19 - The battle between climate change deniers and the environment movement has entered a new, pernicious phase. That is the stark warning of one of the world's leading climate experts, Michael Mann.
11 Nov 19 - Climategate marks its 10th anniversary this month – an opportune moment to to look at the effect it had on those who were trying to save the planet.
7 Nov 19 - British Petroleum believes there's an "80 percent overlap" between the oil giant's ambitions and those of Extinction Rebellion.
5 Nov 19 - The world's largest oil and gas companies need to slash their production by more than a third by 2040 to meet global climate targets, according to a new report.
5 Nov 19 - Roll up! Roll up! The globe's biggest climate polluter, Saudi Aramco, is poised to announce the world's biggest stock flotation in an ultimate marriage of carbon and capital.
1 Nov 19 - Greenhouse gas emissions caused by damage to tropical rainforests around the world are being underestimated by a factor of six, according to a new study.
31 Oct 19 - More than three times more people are at risk from rising sea levels than previously believed, research suggests.
31 Oct 19 - The latest industrial robots look like petting-zoo versions of the big machines found in many modern factories – small, cute and you can play with them. But don't be deceived by their cuddly...
30 Oct 19 - Erecting wind turbines on the world's best offshore sites could provide more than enough clean energy to meet global electricity demand, according to a report.
30 Oct 19 - The US did not take part in an international climate fund meeting at which wealthy countries pledged nearly $10 billion to assist poorer nations in combatting climate change.
29 Oct 19 - Growing demand for SUVs was the second largest contributor to the increase in global CO2 emissions from 2010 to 2018, an analysis has found.
---