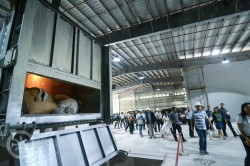 Today 9:30am - Garbage from homes, schools and businesses around the globe amounted to 2.2 billion tonnes) in 2016, disproportionately discarded by people in North America, Europe and Central Asia.

Today 9:30am - Halloween next week will produce a frightening amount of plastic pollution in the form of food and costume packaging, masks and accessories, and costumes made from polyester, nylon, and acrylic.

Tuesday - New evidence from the air, space, atmospheric chemistry and old records is testament to global warming impacts on the speed of change in the frozen world.

Monday - Humanity has made a "tragic, desperate mess" of the planet, Sir David Attenborough has said.
Monday - An ever-expanding US market for cocaine is leading to drug traffickers destroying swathes of tropical forest to create new transport routes.

18 Oct 19 - Direct action by protesters is the only thing that will push politicians into treating climate change as the crisis it is, says the chair of Air New Zealand's sustainability board, Sir Jonathon Porritt.

18 Oct 19 - The climate crisis is driving alarming levels of hunger in the world, undermining food security in the world's most vulnerable regions, according to this year's global hunger index.
---
16 Oct 19 - Outbreaks of ebola – the deadly virus that causes severe bleeding and liver and kidney failure – are likely to increase as the climate warms, scientists say.
14 Oct 19 - The world's three largest money managers have built a combined $300bn fossil fuel investment portfolio using money from people's private savings and pension contributions, the Guardian reveals.
14 Oct 19 - A global agreement to make fossil fuel burning more expensive is urgent and the most efficient way of fighting climate change, the International Monetary Fund says.
11 Oct 19 - The Guardian has revealed the 20 fossil fuel companies whose relentless exploitation of the world's oil, gas and coal reserves can be directly linked to more than one-third of all greenhouse gas...
11 Oct 19 - Cheremkhovsky forest covers a 7900 sq km sweep of terrain, but it is merely a dot in the sprawling 12 million sq km Russian boreal forest, or taiga, the world's largest forested region.
11 Oct 19 - It's easy to spot outright rejection of the facts on climate change. But it's far harder to see our own biases and excuses that lead us to delay or deny the need for real action.
8 Oct 19 - Members of Extinction Rebellion have been described in the UK media as ecomaniacs, ecoradicals, dangerous, and a bloody mess.
8 Oct 19 - For the entire 2.5 million years of the Ice Age epoch called the Pleistocene, it was a low-carbon world.
4 Oct 19 - A huge floating device designed to clean up an island of rubbish in the Pacific Ocean that is three times the size of France has successfully picked up plastic from the high seas for the first time.
3 Oct 19 - The planet's daily bread could be at risk as almost two-thirds of the world's wheat-growing areas face "severe, prolonged, and near-simultaneous droughts".
3 Oct 19 - Plastic is everywhere – in our food, air, water and oceans. But do we know enough to determine how harmful it is to our health?
2 Oct 19 - Global shipping companies have spent billions rigging vessels with "cheat devices" that circumvent new environmental legislation by dumping pollution into the sea, a UK newspaper says.
---