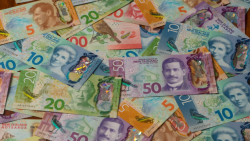 Thursday - The $14.2 billion being bandied about this week as the cost of ­­­New Zealand's Paris Agreement pledge is not solely attributable to the purchase of international carbon credits.
Wednesday - New Zealand should hedge its international carbon risk by buying European carbon units, a broker says.

Wednesday - Spot NZUs opened today at $16.50 bid and $16.85 offered, after last fixing at $16.80.

Tuesday - Substantial cuts to greenhouse gas emissions now will prevent New Zealanders alive today being exposed to temperatures they have never experienced before, says the New Zealand lead author of research published today.

Tuesday - A company turning wood waste into products like mulch and animal bedding has won a Government grant to help it to process bigger volumes.

Monday - New Zealand is giving Fiji $1.3 million and the services of our top climate ambassador to help to chair international climate negotiations later this year.

Monday - Coastal floods will become much more common with even small rises in sea-levels, scientists say.
---
19 May 17 - Emissions resulting from potential new coal mines on the Buller plateau could put as much carbon dioxide into the atmosphere as another three million cars on New Zealand's roads for the next 20...
18 May 17 - Slow-steaming - the most effective method of cutting shipping emissions – will cause problems for New Zealand's fresh food exporters, Cabinet has been told.
18 May 17 - Fewer than a third of Americans support President Donald Trump's rollback of clean energy plans, a new survey shows.
17 May 17 - New Zealand's Yellow-eyed penguins – the world's rarest penguin - could be extinct on the mainland by 2060 as climate change puts extra pressure on the already endangered birds, scientists are...
16 May 17 - Free carbon credits for trade-exposed heavy emitters have cost taxpayers nearly $1.7 billion.
15 May 17 - The Government is getting ready to enact provisions that will actually cut New Zealand's greenhouse gas emissions.
12 May 17 - The Wood Energy South energy efficiency programme has prevented just 530 tonnes of carbon dioxide emissions being released, Parliament has heard.
11 May 17 - A price range for carbon and a promise that changes to the Emissions Trading Scheme will be backdated would get landowners planting carbon-sequestering trees now, says the Forest Owners' Association.
11 May 17 - Got a great idea to cut the amount of waste generated in New Zealand?
10 May 17 - Parliament has again been told that the Government is getting advice on bringing agricultural emissions into the Emissions Trading Scheme.
10 May 17 - What will New Zealand do when 12,000 climate refugees from Tuvalu arrive on its doorstep?
9 May 17 - The World Bank says New Zealand should accept more migrants from the Pacific to pre-empt a flood of climate refugees.
---