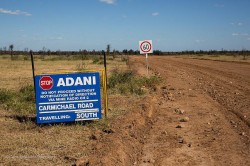 18 Jul 19 - A freedom of information request has revealed Adani sought the names of Australian scientists involved in reviewing groundwater management plans related to its proposed Carmichael mine.
16 Jul 19 - Plans to build a wind farm in Tasmania have come up against an unlikely opponent with Australian Greens founder Bob Brown adding his voice to protests that the project will damage views and ecology.

16 Jul 19 - Climate change is prompting Australian wine researchers to trial drought-tolerant grape varieties from Cyprus.

15 Jul 19 - An ambitious export plan could generate billions of dollars and make Australia the centre of low-cost energy in a future zero-carbon world.

10 Jul 19 - Australia is falling further behind its Paris emission reduction targets. New figures show a surge in the first quarter of 2019, increasing the gap between emissions and the trajectory that the government insists will be met "in a canter".

2 Jul 19 - A report by Environmental Justice Australia has found problems at coal ash dumps in every mainland state.

21 Jun 19 - Australia's Northern Territory has a multi-billion dollar opportunity to invest massively in renewables, create a new hydrogen export industry, and create thousands of jobs, says a new report.
---
20 Jun 19 - Australia has been warned it risks "drifting into the future" if it fails to respond to challenges in a fast-changing world.
14 Jun 19 - Australia has given the final approval for construction to begin on a controversial coal mine to be built by Indian company Adani.
7 Jun 19 - Data showing the latest increase in Australia's greenhouse emissions was released late, in defiance of a Senate order, but leaked to a major newspaper.
7 Jun 19 - Half of the people living in New South Wales' coastal communities think rising sea levels will not affect them, and a quarter of accommodation businesses on the coast are unsure if sea-level rise is...
7 Jun 19 - Midnight Oil, Cloud Control, Vance Joy and Regurgitator have signed up to FEAT, a new platform encouraging their industry to back sustainability.
4 Jun 19 - By mid-June, if everything goes as expected, Adani Australia will receive the final environmental approvals for its proposed Carmichael coal mine and rail line development.
30 May 19 - Most major airports in Australia are located on reclaimed swamps, sitting only a few metres above the present sea level.
24 May 19 - The Australian coal industry has begun lobbying the re-elected Morrison government to support hardline positions, including building new coal-fired power stations and weakening approvals processes...
20 May 19 - Since the news broke of his passing last week, former Australian leader Bob Hawke has been feted as the "environmental prime minister".
15 May 19 - Torres Strait islanders are about to file an unprecedented legal complaint against Australia, accusing the government of breaching their human rights by falling short on its Paris Agreement pledges.
14 May 19 - Most Australians see climate change as the number one threat to national interests. But in 2018, Australia was ranked 55th out of 60 countries in climate change performance.
8 May 19 - By ERWIN JACKSON | With Australia's current policy, the government is saying to business to sit on their hands and do little for another decade
---