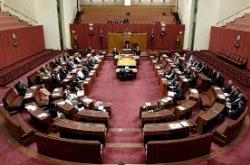 Thursday - The theme of the past 30 days – much like the past 12 months – has been politics, with market focus squarely on the Western Australia Senate election re-run on April 5 and the implications for the balance of power in the new Senate from July 1, says market analyst Reputex.

Thursday - The latest review of Australia's energy-saving appliance scheme has delivered a rare trifecta: a good news story for the economy, the community and the environment.

Thursday - Cutting emissions now makes business sense for industry, writes TAMARYN NAPP, a research associate at Imperial College, London.

Thursday - The fracking industry is the new star on the US energy scene, credited by its backers with bringing down domestic fuel prices and revitalising the US economy. But amid the talk of an energy revolution, there are questions about just how long the fracking boom can last.

Thursday - Renewable energy subsidies that helped to spur Europe's $NZ77 billion-a-year clean energy industry are to be phased out across the continent, under new market-friendly state aid rules announced by the European Commission..

Thursday - * Russia reveals plans to boost flagging coal industry * California hunting, agriculture,forestry emissions reductions * Apple: Climate change is real ... and it's a real problem * US military told to boost renewables in energy policy overhaul

Thursday - While politicians posture, and climate scientists sigh sadly, researchers in laboratories continue to devise ingenious new ways to save energy, increase efficiency, and make the most of solar power.
---
Thursday - Keeping the rise in global average temperatures to no more than 2°C above pre-industrial levels will not be prohibitively expensive, the Intergovernmental Panel on Climate Change says, though it...
Thursday - New Zealand is lagging behind the rest of the world in terms of knowledge, understanding and positive action when it comes to energy-efficient building, according to a leading Canadian specialist...
Thursday - The Ballance Farm Environment Awards have finished another successful year, with supreme winners from 10 regions recognised for their outstanding contribution to agricultural sustainability.
17 Apr 14 - Agriculture greenhouse emissions have nearly doubled over the past 50 years and may increase by another 30 per cent by 2050, according to new estimates from the UN Food and Agricultural Organization.
17 Apr 14 - Seriously tackling New Zealand's emissions requires the use of carbon to be budgeted for in the same way the nation budgets for government spending.
17 Apr 14 - New Zealand's latest Greenhouse Gas Inventory submitted to the UN confirms National's policies are driving climate change, the Green Party says.
17 Apr 14 - The latest climate crisis report from the United Nations emphasises the need for a truly global agreement in 2015 to ensure efforts to cut greenhouse gases are effective, says Minister for Climate...
17 Apr 14 - A long-awaited United Nations report on the mitigation of climate change released this week shows that all countries must act swiftly and boldly to reach a global, ambitious and legal climate...
17 Apr 14 - For the first time, the IPCC has addressed the ethical, as well as technical, issues of reducing greenhouse emissions.
17 Apr 14 - * IPCC report: Bet your house on low carbon energy growth * Coal main energy source for 'decades and decades', says Australian minister * Watch episode one of Years of Living Dangerously * British...
17 Apr 14 - As global temperatures rise, more than one third of the land surface might become more arid.
17 Apr 14 - Cool, green roofs and walls are the hottest property trend in Sydney - from bars to office blocks, apartments and swimming pools.
---