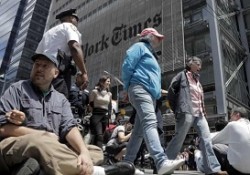 Wednesday - More than 70 protesters have been arrested outside the New York Times building as they called for more effective media coverage of the dangers of climate change.

Tuesday - The Trump administration has stopped promoting US government-funded research into how higher temperatures can damage crops and pose health risks.

Monday - Scientists have identified the US military as one of the world's great emitters of greenhouse gases, an agency which buys as much fuel as Portugal or Peru and emits more carbon dioxide than all of Romania.

21 Jun 19 - Defending against rising seas could cost US communities $416 billion in the next 20 years, according to a new report.

20 Jun 19 - New York politicians have reached a deal to create one of the most ambitious climate bills in the US, putting the progressive state on the front lines of fight over the environment.

20 Jun 19 - The Florida city of Deerfield has put 633 divers into the water in what it claims is the world's largest underwater clean-up.

11 Jun 19 - Former New York Mayor Michael Bloomberg has a new $500 million mission - to close every coal plant in the US by 2030.
---
10 Jun 19 - US President Donald Trump dismissed climate change as "a change in weather" just hours after holding talks on the issue with Prince Charles.
6 Jun 19 - Minnesota aims to offer financial support to homeowners who want to transform their yards into bee-friendly gardens.
31 May 19 - To say Dr Tom Frazer faces a daunting workload as he begins his new job as Florida's first chief science officer would be an underestimation.
28 May 19 - Amazon chief Jeff Bezos has refused to address employees demanding the company take action on the climate crisis.
22 May 19 - Louisiana has issued a blueprint for coping with the impacts of a warming planet, including a human migration that has already begun.
20 May 19 - Efforts to build offshore wind turbines to power up to sx million homes will create more than 10,000 jobs under Climate Jobs New York's plan.
20 May 19 - California has banned a pesticide that has been proven to cause brain damage in children.
16 May 19 - US President Donald Trump faces fines of more than $2 million a year unless he reduces carbon emissions from his New York buildings.
16 May 19 - US States are preparing to fight back as the Trump administration moves to erase Obama-era standards for lightbulbs.
13 May 19 - Washington has committed 100 per cent clean energy sources by 2045 - and six other US states are expected to follow suit.
8 May 19 - Renewable energy in April surpassed coal generation in the United States for the first time since records began.
1 May 19 - Mayor Eric Garcetti has unveiled a sweeping plan for a more sustainable Los Angeles, calling for dramatic changes to the car culture, buildings and air quality of America's second-largest city.
---