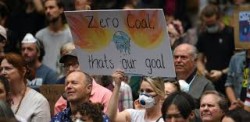 Friday - New polling shows 79 per cent of Australians care about climate change. So why doesn't the Government listen?

22 Oct 20 - Australian company directors want a more radical policy reset to recover from the covid-19 recession including bigger investments in infrastructure, reforms of industrial relations and a Green New Deal.

21 Oct 20 - Former Australian Prime Minister Kevin Rudd says the spreading of misinformation about climate change and other issues warrants a Royal Commission investigation into Rupert Murdoch's media monopoly.

16 Oct 20 - Australian resources giant BHP may finally be starting to establish itself as a primary supplier of materials to the battery and electric vehicle markets, confirming that it has started to boost nickel production after Tesla CEO Elon Musk issued a call out for miners to ramp up output of the key material used in the company's batteries.

12 Oct 20 - Australia could unlock an investment boom of $A63 billion over the next five years if it aligns its climate policies with a target of net-zero emissions by 2050, according to new economic modelling.

29 Sep 20 - Picking winners has been anathema to Australian policy-making for decades. The federal government's technology investment roadmap bucks the trend, targeting public investments in specific low-emissions technologies.

29 Sep 20 - Veteran New South Wales Labor right-winger Joel Fitzgibbon has threatened to quit the shadow cabinet if the opposition adopts a medium-term emissions reduction target he cannot live with.
---
21 Sep 20 - Australian Prime Minister Scott Morrison has declined to sign up to a net-zero target by 2050 because he is "more interested in the doing".
17 Sep 20 - Corporate heavyweight Andrew Liveris, the Morrison government's special adviser on manufacturing, has declared Australia and the world can hit net zero emissions by 2050 by significantly expanding...
16 Sep 20 - What will be Australia's biggest solar farm once commissioning is complete – the 275MW Darlington project in south-west NSW – has sent its first output to the grid as it begins the lengthy journey to...
11 Sep 20 - A push to develop Australia's gas resources could jeopardise global efforts keep global warming to safe levels, eating up more than a quarter of the world's remaining carbon budget, a new report...
3 Sep 20 - Global mining giant BHP has signed a five year contract to use wind and solar to deliver up to half of the power needs for its coal mining operations in Queensland.
1 Sep 20 - Only 1.2 per cent of the greenhouse gas emissions released by Australia's top 65 emitting companies had to be offset under federal and state laws last financial year, an analysis has found.
31 Aug 20 - Business, industry, farming and environmental leaders have joined forces to warn Australia is "woefully unprepared" for the impact of climate change over the coming decades and to urge the Morrison...
28 Aug 20 - Australia's chief scientist, Dr Alan Finkel, has rejected a letter from leading scientists who warned his advocacy for increased use of gas-fired electricity was at odds with the Paris climate...
21 Aug 20 - The Australian Energy Market Commission is seeking feedback on potential changes to the status of large-scale battery storage systems and hybrid projects as the technologies begin to drive...
19 Aug 20 - Australian mining giant BHP has announced it plans to sell off its thermal coal mines within two years as part of moves by the global mining giant to ready itself for a low-carbon future.
17 Aug 20 - Australia's 20-year-old national environmental laws need to be modernised to address climate change as part of the statutory review now under way, the chief minister of the Australian Capital...
12 Aug 20 - The head of Scott Morrison's handpicked National Covid-19 Commission advisory board has confirmed that it has recommended that the federal government use taxpayer funds to underwrite new gas industry...
---