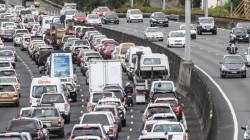 Wednesday - Countries are being told to urgently upgrade their road and rail networks in the wake of a report predicting billions of dollars a year in damage from natural disasters.

17 Jun 19 - Aerospace companies gathering for the Paris air show this week are turning their thoughts to a future run on electricity rather than fossil fuels.

17 Jun 19 - Florida establishes a clear legal framework for self-driving cars to operate within the state.

12 Jun 19 - The highest-capacity hybrid-electric aircraft has taken to the skies in California on its first test flight.

30 May 19 - Tesla completely transformed the car landscape when it introduced the Roadster, pioneering the mass-market electric car. Now, it is doomed.

17 May 19 - Widespread automation, electrification, and connectivity are set to revolutionise the car of the future.

15 May 19 - Daimler, one of the world's leading producers of premium cars and commercial vehicles, is engineering a new future for the sector with a bold new climate commitment.
---
9 May 19 - Schoolchildren launched a fleet of origami boats carrying messages about climate change to delegates at UN shipping talks in London.
30 Apr 19 - People using public transport or walking or cycling should be given priority over cars and that might mean limiting traffic speeds to 30kmh, a new report says.
30 Apr 19 - Billions of dollars are being poured into autonomous vehicle research - but not much thought is going into how humans will respond to the new-fangled transport.
29 Apr 19 - The US Justice Department has launched a criminal investigation into Ford's emissions certification process.
12 Apr 19 - Futuristic electric flying taxis like those seen in the movie Blade Runner could offer a more sustainable - and much faster - way to travel long distances.
3 Apr 19 - In a symbolic first, electric cars outsold fossil fuel-powered ones in Norway last month.
29 Mar 19 - The 'Dieselgate' scandal was suppressed for years – while we should have been driving electric cars.
22 Mar 19 - Waste from plants and trees could soon be fueling jet planes.
15 Mar 19 - As more gigantic cruise ships take to the high seas in the coming years, the industry says it intends to embrace low-carbon technologies and reduce its environmental impact.
12 Mar 19 - After years when Detroit was Ground Zero for scepticism about electric vehicles, the traditional auto industry's hometown has become a hub of EV action.
7 Mar 19 - None of the world's top 20 stock-listed air carriers has any plans in place to manage greenhouse gas emissions after 2025, according to a new report.
7 Mar 19 - Electric cars have been the star of the glitzy Geneva motor show so far, as Honda unveiled its first all-electric effort, the E-Prototype, and Italian supercar maker Pininfarina lifted the lid on...
---