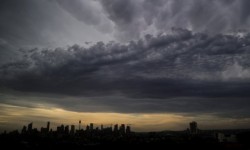 Wednesday - Australia has sweltered through its hottest spring and November on record, with both the season and the month more than 2deg warmer than the long-term average.

Wednesday - EUROPEAN Union member states are fighting over which type of hydrogen to support, with two opposing camps facing off: those backing green hydrogen produced exclusively from renewable electricity, and those in favour of a broader "low-carbon" definition, which also includes nuclear power and decarbonised gases.

Tuesday - Britain is preparing to announce its first solo carbon-cutting pledge to the Paris climate agreement, in a tight political manoeuvre ahead of an ambition summit on December 12.

Tuesday - The European court of human rights has ordered 33 European governments to respond to a landmark climate lawsuit lodged by six youth campaigners, the Guardian has learned.

Tuesday - Scotland is set to start the world's first trials of green hydrogen to replace natural gas for cooking and heating in 300 homes.

Tuesday - Rail operators in Italy and Germany are turning to hydrogen power in an attempt to make their train networks more environmentally friendly, with Deutsche Bahn, partnering up with Siemens, among the trailblazers.

Tuesday - Restaurants, e-commerce platforms and delivery firms will be forced to report their utilisation of single-use plastics to the authorities and also submit formal recycling plans, China's commerce ministry said in proposals published on Monday.
---
Tuesday - International lawyers are drafting plans for a legally enforceable crime of ecocide – criminalising destruction of the world's ecosystems – that is already attracting support from European countries...
Monday - Parts of Australia, including Sydney, have sweltered through the hottest November night on record with temperatures likely to stay high, prompting authorities to issue a total fire ban.
Monday - People worried about the climate crisis are deciding not to have children because of fears that their offspring would have to struggle through a climate apocalypse, according to the first academic...
Monday - Like hydrogen, ammonia can play a key role in decarbonising Europe's heavy industry and transport. So why isn't it grabbing the headlines in the same way?
Friday - Australia's top corporate leaders have met to discuss tackling climate change in line with the Paris Agreement as part of an environmental initiative backed by Richard Branson's The B Team.
Friday - Europe wants to install the euro as the reference currency for trading hydrogen, but a global market with harmonised standards needs to be put in place first in order to meet demand, says the EU's...
Friday - The aviation sector's climate impact is three times bigger than the effect of its carbon dioxide emissions alone, a new study shows, prompting calls for action.
Friday - News that two more reactors in the United Kingdom are to shut down on safety grounds earlier than planned has capped a depressing month for nuclear power in Europe.
26 Nov 20 - British Prime Minister Boris Johnson's "jet-zero" goal of a commercial transatlantic flight producing no carbon emissions by 2025 is a gimmick, according to experts, who say technology alone cannot...
26 Nov 20 - Norway is doubling the price it guarantees developing nations to keep their tropical forests standing, in a step to slow catastrophic losses and encourage big companies to invest far more in nature...
25 Nov 20 - New Zealand is not alone in considering a carbon border-tax on steel; steelmakers in Europe say they need a "Green Deal" to protect them from high-emissions imports from China.
25 Nov 20 - Can you put a price on pollution? Some of the world's biggest economies are doing just that as they wrestle with how to make good on grand pledges to tame planet-warming emissions.
---