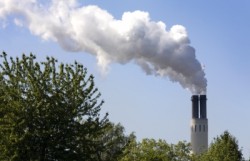 Tuesday - Ontario has signed an agreement with California to enter its joint carbon cap and trade market with Quebec, from next January 1.

Monday - The 2017 North Atlantic hurricane season still has about five weeks to go, but it's already one of the most expensive on record. Repeated storms are stretching the public and private sectors thin.

19 Sep 17 - The terms of the Paris Agreement are set in stone, the EU, China and Canada agreed at a summit in Montreal at thge weekend, while Washington was forced to deny that the US is planning to stay in the accord.

19 Sep 17 - California governor Jerry Brown's climate coalition list of city, state and national governments nears 200 and is shifting climate diplomacy beyond the caprices of national leaders.

18 Sep 17 - The Trump administration is opening the door to offering its own replacement for former President Barack Obama's landmark climate regulation — rather than just erasing it altogether.

12 Sep 17 - A new film tells the story of Crossett, Arkansas – a small town dominated by a Koch brothers-owned paper mill, blamed for dumping cancer-causing chemicals.
11 Sep 17 - The US president's dismissal of scientific research is doing nothing to protect the livelihoods of ordinary Americans.
---
8 Sep 17 - The corporate backlash is growing against Donald Trump's withdrawal from the Paris climate accord, with Mars launching a $1bn sustainability plan and an M&M's campaign centred on renewable energy.
8 Sep 17 - In the real estate business, it's all about location, location, location. Except when it's about water quality. And large algal outbreaks are a great way to dampen the value of waterfront property.
6 Sep 17 - The White House has announced that President Donald Trump plans to nominate Republican Jim Bridenstine, a climate science denier, to be administrator of NASA.
6 Sep 17 - Because US infrastructure is not built to withstand climate change the cost of the Hurrican Harvey disaster will be relatively high.
5 Sep 17 - The faded, "distressed look" of a favorite pair of blue jeans, might come with a hidden price.
4 Sep 17 - California, the world's sixth-largest economy, is aiming for an entirely clean power grid by 2045 with legislation that pits technology start-ups against utilities.
1 Sep 17 - An invasion of tiny insects is killing swaths of coastal marsh at the mouth of the Mississippi River, and has turned an already unraveling landscape into open water in a matter of months.
31 Aug 17 - Secretary of State Rex Tillerson has informed Congress that the US will no longer have a special envoy for climate change, the official that has led delegations to UN climate talks since 2009.
30 Aug 17 - At least 14 people have died and tens of thousands evacuated as Houston continues to be battered by catastrophic rainfall. Can we decode the disaster?
28 Aug 17 - ExxonMobil's deliberate attempts to sow doubt on the reality and urgency of climate change and their donations to front groups to disseminate false information about climate change have been public...
25 Aug 17 - California has raised more than $640 million auctioning off permits for businesses to emit greenhouse gases as part of a program aimed at fighting climate change.
25 Aug 17 - Rather than spending billions of dollars and squabbling about a border wall, the US and Mexico could adopt an alternative vision: regenerating the Rio Grande.
---