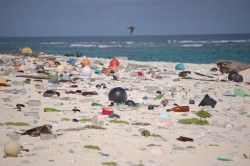 Thursday - Growing awareness of ocean plastic has prompted local efforts to keep beaches clean. But the amount of discards collected poses the question of what to do with it.

Thursday - G7 leaders this weekend will join fashion retailers and brands to sigfn a global pact to fight the climate crisis and protect biodiversity and the oceans.

Wednesday - The only period in which the world's climate has changed everywhere and at the same time is right now.

Tuesday - Emerging economies have called on rich countries to meet their pre-2020 climate targets and ramp up climate finance.

16 Aug 19 - The soaring popularity of the feisty, outspoken environmental advocate Greta Thunberg – who is only 16 – has caused a rise in young people seeking stories about saving the planet.

12 Aug 19 - Climate change and overfishing are increasing levels of toxic mercury in fish which can cause neurological disorders in children and babies.

12 Aug 19 - Is any item more symbolic of our modern, disposable culture than the single-use coffee cup?
---
8 Aug 19 - You might have missed it, but a recent report declared that the main strategy of world leaders for tackling climate change won't work.
5 Aug 19 - Attempts to solve the climate crisis by cutting carbon emissions from only cars, factories and power plants are doomed to failure, scientists will warn this week.
5 Aug 19 - Wildfires are ravaging parts of the Arctic, with areas of Siberia, Alaska, Greenland and Canada engulfed in flames and smoke.
2 Aug 19 - Capitalism is "very much part of the solution" to tackling the climate crisis, according to the governor of the Bank of England, Mark Carney.
1 Aug 19 - Researchers can calculate the exact day of the year which we have surpassed the resources Earth can regenerate annually … this year that date was July 29.
31 Jul 19 - The Philippines has replaced Brazil as the most murderous country in the world for people defending their land and environment.
30 Jul 19 - Leading architects and engineers are calling for all-glass skyscrapers to be banned because they are too difficult and expensive to cool.
30 Jul 19 - Medals awarded at next year's Tokyo Olympics will be made from metals recycled directly from cell phones, computers and other electronic waste.
29 Jul 19 - Tourists who question scientific evidence of the climate crisis are being shown graphic images of famous views we'll lose.
26 Jul 19 - International lawmakers should adopt a fifth Geneva convention that recognises damage to nature alongside other war crimes, according to scientists.
25 Jul 19 - In the frenzy to ban plastic utensils, foam containers, straws and single-use bags, the world's No1 most-littered item has been mostly ignored - cigarette butts.
24 Jul 19 - UN chief António Guterres wrote to every head of state over the weekend, demanding they set out plans to achieve carbon neutrality by 2050.
---