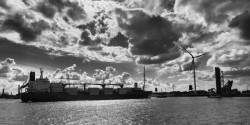 Monday - The European Parliament has lost patience with shipping industry inaction over climate change and has outlined plans to include vessels in its Emissions Trading System.

Monday - Six US states have proposed legislation this year that would add to the cost of owning an electric vehicle, worrying clean energy advocates who say owning emissions-free vehicles should be incentivised rather than taxed.

Friday - India's railways – the leading consumer of power – are to become the nation's largest producer of solar energy.

Thursday - Integrated transport has long been the holy grail of transport engineering. Now, a project set up north of Melbourne's CBD aims to make it a reality.

21 Feb 17 - Older, more polluting cars will have to pay an extra £10 ($NZ17) charge to drive in central London's congestion charge zone, the city's mayor has said.

16 Feb 17 - Volvo has announced that its first all-electric vehicle is coming in 2019 with battery packs up to 100 kilowatt hours.

13 Feb 17 - Renewable energy is helping to power increasing numbers of the world's road vehicles. Now several European countries are exploring the potential for using renewables to fuel their trains.
---
9 Feb 17 - Oslo, Norway's capital, like most of the Scandinavian country's cities and towns, boasts bus-lane access for electric vehicles, recharging stations aplenty, privileged parking, and toll-free travel...
8 Feb 17 - A scheme that would see the scrapping of diesel cars could be introduced in just months as part of a plan to lower emissions and improve air quality across the UK.
8 Feb 17 - Following a 5 per cent decline in sales from 2014 to 2015, US electric vehicle sales jumped by 37 per cent in 2016.
7 Feb 17 - International flights in and out of the European Union could be exempted from emissions limits for at least another four years to give the United Nations time to implement a global system to curb...
3 Feb 17 - Falling costs of electric vehicles and solar panels could halt worldwide growth in demand for oil and coal by 2020, a new report has suggested.
26 Jan 17 - New Zealand shipping companies say it is unfair they are paying for their greenhouse gas emissions but international companies competing with them on coastal routes are not.
26 Jan 17 - The Government is standardising public electric-vehicle charging stations.
26 Jan 17 - Global demand for oil will still be growing in 2035 even with an enormous growth in electric cars in the next two decades, with numbers on the road rising from 1m to 100m, BP has predicted.
25 Jan 17 - Paris has launched its first driverless electric shuttle bus service, aiming to curb congestion and pollution that many Parisians blame for a whole raft of health complaints.
25 Jan 17 - North Shore Toyota has joined Waikato Toyota to become just the second motor vehicle dealer in New Zealand to gain Enviro-Mark Diamond certification.
24 Jan 17 - Four of the largest US West Coast cities are asking carmakers whether they can produce "a potentially record-breaking order" of 24,000 electric vehicles.
24 Jan 17 - Daimler, BMW, and Toyota are leading a group of 13 companies pledging to invest more than $10 billion during the next five years to spur public interest in buying hydrogen fuel-cell vehicles.
---