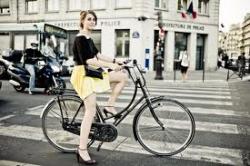 18 Jul 14 - The French Ministry of Ecology and Sustainable Energy Development has launched a trial scheme where commuters are paid to cycle to work.

11 Jul 14 - The world's biggest oil company has been accused of 'doublethink' in claiming that its fossil fuel assets will continue to be highly profitable and in demand, while recognising the need for decisive action on climate change.

4 Jul 14 - The electric car trend is still to take off, with drivers largely put off by up-front costs, according to a survey by Britain's Department for Transport.

27 Jun 14 - Kia Motors says its new zero-emissions electric car has gone into volume production.

27 Jun 14 - Air travel is a rapidly-growing source of carbon dioxide and is helping to heat the Earth. It accounted for 6 per cent of the UK's total greenhouse gas emissions in 2011.

27 Jun 14 - Wellington Regional Council says its new transport plan will get up to 20 per cent more people out of cars and on to public transport.

20 Jun 14 - National's transport budget for the next decade is a fantasy plan that pretends climate change doesn't exist and locks New Zealanders into their cars for the next 50 years, the Green Party says.
---
13 Jun 14 - Scientists in the United States claim they have developed a simple, one-step process that turns plant tissue into biofuel.
6 Jun 14 - Air New Zealand says its new aeroplanes will help it to cut carbon emissions.
6 Jun 14 - Wellington Mayor Celia Wade-Brown has taken the wheel of an electric bus.
30 May 14 - Shell, the world's largest oil company, believes that governments will not damage its business by taking rapid action on climate change, and says all its oil reserves will be needed and sold at a...
30 May 14 - Google dropped its driverless car on the motor world this week and the concept immediately won praise from a leading industry executive.
9 May 14 - Investors are being urged to warn oil companies that they are risking trillions of dollars in exploiting oil fields that will probably never be profitable − and to consider selling their shares...
2 May 14 - Bioenergy and biofuels have an important role to play in lowering the use of carbon-intensive fossil fuels – a point underscored by the IPCC report which confirmed the need for further research to...
17 Apr 14 - More than 76,600 people could become employed by green transportation businesses, and 10,000 lives would be saved, if major European cities adopted Copenhagen's bicycle sharing system, says a new...
11 Apr 14 - Ship transport is energy efficient, but it is also a significant source of emissions because of the globalised world huge transportation needs. In large measure, these vessels are powered with...
11 Apr 14 - Choosing tyres which grip well but are also fuel efficient can save money and reduce carbon emissions, says Consumer NZ.
11 Apr 14 - By LYNETTE DRAY.- Although aviation emissions contribute only 3 to 5 per cent of the total impact on the planet's climate, this is steadily growing and is a surprisingly intractable problem to solve.
4 Apr 14 - A commercial-scale biodiesel project nearly stymied by the withdrawal of Government support is to go ahead.
---