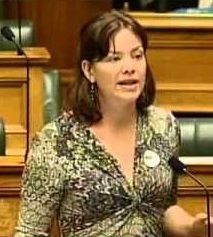 Wednesday - A Green government would fund rail from taxes, with an aim of getting half of the country's total freight off roads by 2027.
Wednesday - Carmaker Hyundai is designing an electric vehicle with a 250-mile range for 2020.

24 May 16 - The Government should fine people buying fossil fuel-burning vehicles and give the money to people who buy clean electric vehicles, says Waikato University's professor of law.
24 May 16 - Global electric vehicle revenue will likely reach $58 billion in 2021, representing a fivefold increase from 2015.

23 May 16 - As Harmony of the Seas sets sail from Southampton docks today she will leave behind a trail of pollution – a toxic problem that is growing as the cruise industry and its ships get ever bigger.
19 May 16 - Colorado people looking to buy electric vehicles in the state will soon have access to a $5000 incentive.
18 May 16 - Details of a global carbon offsetting scheme for planes are up in the air after an inconclusive meeting in Montreal last week.
---
13 May 16 - A carbon market run by the United Nations is emerging as the most probable supplier of the emissions credits necessary to curb greenhouse gas pollution from the world's airline industry, according to...
12 May 16 - China and the US are set for a fight over the split of responsibilities for cutting airline emissions at a UN meet starting today.
11 May 16 - Japan has more electric car charging stops than petrol stations, according to a recent survey by Nissan.
9 May 16 - General Motors and Lyft within a year will begin testing a fleet of self-driving electric taxis on public roads, a move central to the companies' joint efforts to challenge Silicon Valley giants in...
6 May 16 - The Government's plan to get 64,000 electric cars on the road by 2021 will cut New Zealand's greenhouse gas emissions by just 0.01 per cent.
6 May 16 - Transport Minister Simon Bridges says his electric-vehicle policy will remove barriers that have prevented businesses and households switching to electric vehicles.
6 May 16 - Politicians are fond of talking up electric vehicles, but not many of them are putting their money where their mouths are.
5 May 16 - The world's largest express transportation company, FedEx, is pioneering the use of sustainable aviation fuels through a new partnership which will see millions of gallons of biofuel produced from...
4 May 16 - The Government will unveil its electric vehicle policy tomorrow.
4 May 16 - Higher carbon prices and clear government policy are two of the measures needed to get New Zealanders to switch to electric cars, the Royal Society says.
3 May 16 - The Ontario government has moved to reassure the auto sector that it considers the industry crucial to the province's economy amid a controversy stirred up by a draft action plan on climate change...
2 May 16 - VW and Shell have united to try to block Europe's push for electric cars and more efficient cars, saying biofuels should be at heart of efforts to green the industry instead.
---