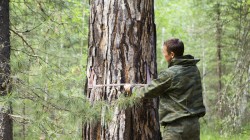 15 May 19 - A major update on how countries measure greenhouse gas emissions has failed to address key weaknesses, particularly on bioenergy, campaigners say.

3 May 19 - Help is at hand for businesses and other organisations wanting to track their greenhouse gas emissions.

11 Apr 19 - New Zealandís greenhouse gas emissions are growing again, following the global trend.

9 Apr 19 - German scientists have confirmed, once again, that carbon dioxide is reaching concentrations unprecedented on any human time scale, with CO2 levels in the atmosphere already higher than they have been for at least three million years.

27 Mar 19 - Global energy-related carbon emissions rose to a record high last year as energy demand and coal use increased, mainly in Asia.

21 Mar 19 - The firing up of an extra pot-line at the Tiwai Point aluminium smelter and a strong dairying season pushed up New Zealandís greenhouse gas emissions from the burning of coal.

3 Dec 18 - Recycling alone will not solve New Zealandís plastics pollution problem Ė the country needs to use less, a new report says.
---
7 Aug 18 - Unchecked climate change will cost New Zealand nearly $6 billion a year in lost earnings, researchers have calculated.
22 Jun 18 - New Zealandís greenhouse gas emissions from energy were up in the first three months of this year compared to the same time last year Ė with record temperatures meaning less water was available for...
26 Apr 18 - New Zealanders are more worried about climate change than they have been for six years.
13 Apr 18 - Increased hydro-electricity generation and a 1.5 million fall in the national sheep flock has led to a slight fall in New Zealandís greenhouse gas emissions.
22 Jan 18 - New Zealandís greenhouse gas emissions blow-out continues unabashed, with net emissions expected to more than double by 2030, despite international pledges to cut them.
22 Jan 18 - New Zealandís one-for-two carbon subsidy is almost gone.
22 Jan 18 - Government policies Ė including the Emissions Trading Scheme - are expected to start making a dent in New Zealandís agricultural emissions over the next 12 years.
1 Dec 17 - Scientists increasingly agree that the world might need negative emissions to prevent catastrophic warming.
2 Nov 17 - New Zealand's carbon price is at the low end of global prices Ė and well below the level that will trigger the emissions cuts needed to meet the Paris Agreement, a new report shows.
1 Nov 17 - Countries are failing to decarbonise at the rate needed to meet their Paris Agreement pledges, let alone hold warming to less than 2deg, says global accountancy firm PwC.
4 Oct 17 - Carbon emissions from agriculture can be significantly cut while still meeting the food demands of the worldís growing population, a new study says.
29 Sep 17 - Global emissions of climate-warming carbon dioxide remained static in 2016, a welcome sign that the world is making at least some progress in the battle against global warming.
---