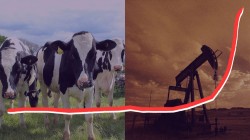 Today 10:00am - While the world has been focused on a global pandemic and widespread protests, another crisis is gathering in the atmosphere.

Today 10:00am - If a plant can't germinate, it's heading for extinction. For many tropical trees, conditions could soon become too hot to procreate.

Wednesday - More than 200,000 tonnes of tiny plastic particles are blown from roads into the oceans every year, according to research.

Wednesday - Putting a price on carbon should reduce emissions, because it makes dirty production processes more expensive than clean ones, right?

Monday - A decade after prospectors struck gas off Cabo Delgado, northern Mozambique, a consortium led by Total is signing contracts worth $16 billion to exploit it.

Monday - As the global climate shifts, it's important to know which species have adaptations to survive. Our research published today in PNAS found it largely depends on where they evolved.

10 Jul 20 - The amount of carbon dioxide in the Earth's atmosphere is approaching a level not seen in 15m years and perhaps never previously experienced by a hominoid, according to the authors of a study.
---
9 Jul 20 - More than 5600 companies in the fossil fuel industry have taken a minimum of $3b in coronavirus aid from the US federal government, according to a new analysis.
8 Jul 20 - Lithium is used in everything from medication to mobile phone batteries, but where does it come from?
7 Jul 20 - Electric motor manufacturer Tesla became the world's most valuable carmaker last week, overtaking Toyota, despite never having made an annual profit.
7 Jul 20 - Electric vehicles have a clear environmental advantage over their gas-guzzling counterparts, but when it comes to longevity, the two are in a dead heat.
30 Jun 20 - Renewable energy companies are falling short on efforts to safeguard the rights of workers and communities in their operations and throughout mineral supply chains, placing the sector's legitimacy...
26 Jun 20 - iN SOCIETIES where money can buy almost everything, being rich is generally perceived as something good. But there's a catch: affluence trashes our planetary life support systems.
25 Jun 20 - Beloved by Silicon Valley tycoons and tyranny-fearing libertarians, are cities atop the waves Earth's next frontier?
25 Jun 20 - People go on getting richer, and the planet pays a mounting price. There's a better way to balance nature's accounts.
24 Jun 20 - Living in a house that doesn't fully meet your needs might have been tolerable when you spent more of your time elsewhere, but a third of the world has been stuck indoors at one time during the...
24 Jun 20 - England must "seize the day" and create a national nature service to restore wildlife and habitats, says a coalition of the country's biggest green groups.
23 Jun 20 - An updated version of the European Commission's draft hydrogen strategy confirms the EU's "priority focus" on clean hydrogen produced from renewable electricity, but also recognises the role played...
23 Jun 20 - The carbon footprint of sport is causing is worldwide damage. And global heating is itself penalising players and fans alike.
---