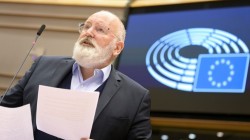 Monday - Lawmakers have denounced a "loophole" in the European Commission's proposed climate target for 2030 and pointed the finger at the EU executive for its hard negotiation style over the EU climate law.

2 Mar 21 - European banks should publish a "green-asset ratio" as a core measure of their climate-friendly business activities, says the European Union's banking watchdog.

24 Feb 21 - A pilot scheme will use methane from fermenting fruit to create clean power for Serville's city water plant

22 Feb 21 - In Russia's remote far east, authorities have launched an unexpected experiment: an effort to try out carbon trading and reach net-zero planet-heating emissions by 2025.

18 Feb 21 - The European Union has renewed its push for greening a major international treaty protecting energy investments, after last-minute wrangling and divisions between member states.

17 Feb 21 - The Farm to Fork Strategy is at the heart of the European Green Deal, aiming to make food systems fair, healthy and environmentally-friendly.

16 Feb 21 - Germany wants Europe and the United States to strengthen transatlantic ties with a trade deal to abolish industrial tariffs, a WTO reform to increase pressure on China and a joint carbon-emission trading system to protect the climate.
---
11 Feb 21 - Big-emitting Australian businesses that export to Europe could soon face steep carbon levies of more than $70 a tonne unless the federal government imposes emissions reduction policies, according to...
4 Feb 21 - A Paris court has found the French government responsible for failing to cut emissions in line with its own target, in the country's first major climate lawsuit.
3 Feb 21 - Ireland's peat is offering the country a novel way to back the global effort to save the planet from overheating dangerously. It is helping to lock up the carbon emissions which are feeding the...
2 Feb 21 - The European Commission needs to have further discussions with Beijing and other trading partners about its upcoming carbon border levy, a senior Chinese diplomat says.
29 Jan 21 - Salla, the coldest place in Finland, is making a tongue-in-check bid for the 2032 Summer Olympics, saying thanks to climate change, it expects that by then it will have sand for beach volleyball,...
26 Jan 21 - The European Investment Bank says it will end all funding for fossil fuels before the end of the year.
8 Dec 20 - Deutsche Bank says it will join a small number of financial institutions that link management pay to environmental, social and governance-related criteria.
7 Dec 20 - Denmark's climate minister is fairly certain that the deal to close down the nation's oil industry by 2050, announced on Friday morning, marks the biggest moment in his career.
2 Dec 20 - EUROPEAN Union member states are fighting over which type of hydrogen to support, with two opposing camps facing off: those backing green hydrogen produced exclusively from renewable electricity, and...
1 Dec 20 - Rail operators in Italy and Germany are turning to hydrogen power in an attempt to make their train networks more environmentally friendly, with Deutsche Bahn, partnering up with Siemens, among the...
1 Dec 20 - International lawyers are drafting plans for a legally enforceable crime of ecocide – criminalising destruction of the world's ecosystems – that is already attracting support from European countries...
27 Nov 20 - Europe wants to install the euro as the reference currency for trading hydrogen, but a global market with harmonised standards needs to be put in place first in order to meet demand, says the EU's...
---