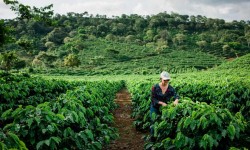 Tuesday - The public is providing more than $1m per minute in global farm subsidies, much of which is driving the climate crisis and destruction of wildlife, according to a new report.

Tuesday - As world leaders converge on New York City for the United Nations Climate Action Summit on September 23, they enter what may be the most consequential week in climate politics since Donald Trump's surprise election as president of the United States in 2016.

Tuesday - The White House is not only overturning as many environmental protections as it can - it also wants to significantly change the legal landscape to make it harder to reinstate them.

Tuesday - More Australians are drowning as the country faces record high temperatures, lifesavers have warned.

Tuesday - In 2013, a group of women sat around the kitchen table at Glen House, a country estate in the Scottish borders.
Monday - Two-thirds of Americans believe climate change is either a crisis or a serious problem, with a majority wanting immediate action to address global heating and its damaging consequences, a new poll shows.

Monday - The Trump administration has repealed an Obama-era policy designed to protect US waterways.
---
Monday - Big agribusinesses aren't doing enough to stop deforestation in their supply chains, critics say.
Monday - One of the world's most important institutions in the fight against climate change is also one of the UN's most opaque.
Monday - It's the ultimate in motoring self-sufficiency – an electric car powered by solar panels on the roof.
Friday - The wood industry is a massive source of uncounted carbon emissions, according to a pioneering study.
Friday - Farming can become climate neutral by 2040 without cutting beef production or converting substantial areas of farmland into forest, according to UK farmers.
Friday - Canadian environment minister Catherine McKenna says she has been assigned a security detail because of abuse she has received both online and in person.
Friday - Healthcare workers backing zero carbon emissions say chemicals used increasingly to anaesthetise patients are potent greenhouse gases.
Thursday - China is expected to come to the UN climate action summit with a more ambitious climate plan, a top UN official believes.
Thursday - Human demand for transport will increase as the climate warms, becoming its own feedback loop, researchers say.
Thursday - The changing climate has brought to the holy temple of cricket a raft of possible consequences, from more drinks breaks to playing in shorts.
Thursday - A Finnish supermarket chain is fighting food waste by offering steep discounts during a late-night happy hour.
Thursday - Faced with a ferocious summer with little rain forecast, the New South Wales government has embarked on a Noah's Ark type operation to move native fish to safe havens.
---