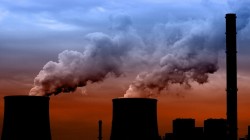 Today 10:00am - France, Germany and Italy have collectively spent $44 billion on fossil fuels during the coronavirus crisis, compared to $29 billion for clean energy, according to fresh data released yesterday.

Tuesday - COPIES of Indian newspapers onboard an Air India jet that crashed into Mont Blanc in the 1960s have been revealed by melting ice on the mountain's Bossons glacier.

8 Jul 20 - Marseille has become the latest French municipality to elect a green mayor in a wave that has swept the country since local elections at the end of last month.

1 Jul 20 - Spain is on track to become a coal-free country in record time. All of its remaining coal-fired thermal power plants started shutting down yesterday, a year-and-a-half after the closure of the coal mines.

30 Jun 20 - The European Union can reach climate neutrality as early as 2040, according to a group of environmental NGOs which have mapped out a scenario to move the bloc towards a 100 per cent renewable energy system by then.

30 Jun 20 - Ireland's new coalition government has set itself a goal to deliver steep greenhouse gas emissions cuts every year to reach neutrality by 2050.

29 Jun 20 - The poster advertising an evening of debate and organic canapés looked familiar to environmentally conscious Germans - a rugged pair of hands, cupping fertile brown soil, underneath the slogan "Farms instead of agricultural factories", written in a font mimicking that of a popular biodynamic food brand.
---
25 Jun 20 - Workers lay out huge geotextile sheets on the Presena glacier in northern Italy A vast tarpaulin unravels, gathering speed as it bounces down the glacier over glinting snow. Summer is here...
18 Jun 20 - A prolonged heatwave in Siberia is "undoubtedly alarming", climate scientists have said. The freak temperatures have been linked to wildfires, a huge oil spill and a plague of tree-eating moths.
17 Jun 20 - The coronavirus lockdown gave a glimpse of what cleaner cities can look like, but as people turn to private cars for safety from infection, pollution could soar.
16 Jun 20 - The French schooner De Gallant has docked in Falmouth harbour three months after leaving Santa Marta in Colombia laden with tonnes of sustainably sourced coffee beans.
12 Jun 20 - A world leader in cutting emissions from electricity production, the German government, in thrall to the auto industry, "overlooked" pollution from cars and trucks.
8 Jun 20 - The German government has unveiled plans for a massive €130 billion stimulus package that features at least €40 billion climate-related spending.
8 Jun 20 - A huge swathe of Arctic Russia is changing rapidly as oil leaks, the climate warms and Siberia dries out.
4 Jun 20 - Oil and gas companies throughout the supply chain need to do much more to bring down methane emissions immediately, says Shell's new-energies director Maarten Wetselaar.
28 May 20 - It's now official: the EU's updated seven-year €1 trillion budget proposal and €750 billion recovery plan will both be geared towards the green and digital transitions.
21 May 20 - Denmark plans to build two "energy islands" totalling 4GW of offshore wind capacity, under plans to reduce emissions by 70 per cent from 1990s levels by 2030 and become a green energy exporter.
20 May 20 - The European Commission this week will launch a sweeping effort to tackle the global biodiversity crisis, including a call for three billion trees to be planted by 2030 and a plan to better protect...
20 May 20 - Spain's Cabinet is set to approve a bill setting out a path to reduce greenhouse gas emissions to net-zero by 2050, putting it on course to join a handful of wealthy nations that have written the...
---