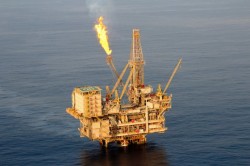 Thursday - Researchers have come up with a new technique to clean the atmosphere of the second-most powerful greenhouse gas people produce - methane.

Thursday - Pacific leaders have urged Australian Prime Minister Scott Morrison to do more to fight the climate crisis.

Thursday - The language of climate emergency has exploded into public space in a spectacular way, with media and governments adopting new and stronger terms.

Thursday - Rubber is one of the world's most widely used materials, but irresponsible farming methods have led to deforestation and human rights abuses as the sector has grown.

Wednesday - Ice loss from Antarctica and Greenland could cause far more sea level rise than previously thought, says a new report.

Wednesday - Louisiana has issued a blueprint for coping with the impacts of a warming planet, including a human migration that has already begun.

Wednesday - BlackRock, which controls $6.5 trillion in assets, has been urged to use its influence on the planet's biggest polluters.
---
Wednesday - If earthworms had feathers, wings or fur, or eyes that looked mournful – or eyes at all – perhaps they would fare better in the public's affections.
Tuesday - Last month was the second-hottest April since records began in 1891, rivaled only by April 2016.
Tuesday - Single-use plastic is clogging oceans and landfills. The industry that makes it has waged a decades-long campaign to keep it on the market.
Tuesday - By GAIA VINCE | A four-degree-warmer world is the stuff of nightmares and yet that's where we're heading in just decades.
Tuesday - The topic of climate change features on television about as often as that of zombies, urine, or rhubarb.
Tuesday - Glasgow has committed to being the UK's first net-zero city.
Monday - Efforts to build offshore wind turbines to power up to sx million homes will create more than 10,000 jobs under Climate Jobs New York's plan.
Monday - The 2.4 billion people worldwide who play video games present an opportunity for boosting environmental awareness and action, a new report points out.
Monday - Since the news broke of his passing last week, former Australian leader Bob Hawke has been feted as the "environmental prime minister".
Monday - California has banned a pesticide that has been proven to cause brain damage in children.
17 May 19 - Increasingly complex, growing and related risks, from global warming to pollution and epidemics, threaten human survival if left to escalate, the United Nations has warned.
17 May 19 - Mismanaged waste is causing hundreds of thousands of people to die each year in the developing world from easily preventable causes, a report has found.
---