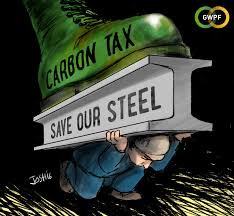 Monday - Joining a New Zealand-led trade pact on climate change could be more effective than putting up trade barriers on carbon, New Zealand will tell Europe and the United Kingdom.

Monday - By PATTRICK SMELLIE | There was an outburst of skeptical tongue-clicking last Thursday when Climate Change Minister James Shaw announced New Zealand will this week declare a state of 'climate emergency'.

Monday - Ten years ago, Opposition climate change spokesperson Charles Chauvel was having to pay his own way to international climate negotiations in Cancun, Mexico. Climate Minister Nick Smith and International Climate Negotiations Minister Tim Groser had their tickets paid by taxpayers, and the Greens didn't send anyone.

Monday - Parliament sits this week, with the James Shaw's climate emergency declaration expected in the House on Wednesday.

Friday - Genesis Energy – one of the country's biggest emitters of greenhouse gases – is considering selling its stake in the Kupe oil and gas field, freeing up money it could invest in renewable generation.

Friday - Climate minister James Shaw appears to be sticking with the new bullish approach he's adopted since the election.

Friday - Spot NZUs opened at $35.80 bid and $35.90 offered on CommTrade this morning, after last fixing at $35.80.
---
Friday - Kiwi singer Lorde has written an impassioned entreaty for the world to face the climate emergency head-on after visiting Antarctica.
Friday - Parliament sits on Tuesday, Wednesday and Thursday next week.
Friday - Ten years ago, South Korea said it would have carbon-capture-and-storage technology operating by 2020.
Thursday - One of New Zealand's largest emitters has made it on to the Dow Jones Asia-Pacific Sustainability Index.
Thursday - By GAVIN EVANS | Natural gas, especially when combined with carbon capture use and storage, can play a critical role meeting the world's net-zero carbon targets, BP economist Michael Cohen says.
Thursday - The Sustainable Business Network's Convergence Conference on transitioning to a low-carbon economy over the next decade is on today in Auckland, Wellington, Christchurch and online.
Thursday - Ten years ago, Downer was reporting it had cut its fuel bill by $3 million over two years as a byproduct of trying to cut emissions.
Wednesday - Fonterra is optimistic it will find a way to accurately measure the amount of greenhouse gas emissions being produced by each dairy farm in time to meet a Government deadline of 2022.
Wednesday - Spot NZUs opened at $35.70 bid and $36 offered on CommTrade this morning, after last fixing at $35.80.
Wednesday - Parliament opens today, with the swearing in of new MPs and the election of a Speaker. The formal Speech from the Throne, outlining the Government's plans, will be made tomorrow.
Wednesday - Ten years ago, forest owners were warning that keeping agricultural emissions out of the Emissions Trading Scheme would affect planting rates.
24 Nov 20 - Prime Minister Jacinda Ardern says the Government is pressing ahead at home and abroad with action on climate change.
---