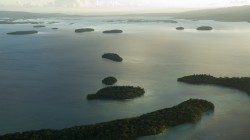 Friday - Top climate scientists have just under two years to deliver assessment of dangers and avoiding strategies for warming of 1.5deg.

Friday - Global demand for energy will grow 25 per cent in the next 25 years and countries will guzzle oil five times the size of Saudi Arabia's reserves, predicts Exxon Mobil CEO Rex Tillerson.

Friday - Oil companies must cut their carbon footprints to play a part in meeting the Paris Agreement on climate change, says Saudi Arabia oil chief Khalid Al-Falih.

Friday - The UN's world heritage body has made an urgent intervention to stop the construction of a coal power station in Bangladesh.

Friday - Climate change has been the elephant in the room during the three US presidential debates. Ignoring this issue would be more understandable if this metaphorical pachyderm weren't about to rampage through the lives of Americans, causing upheaval on a scale not seen since the start of human civilization.

Friday - Target is now the US. company that produces the most solar power at its facilities, beating out Walmart for the first time, and heading off Prologis, Apple, Costco, Kohl's, and IKEA.

Thursday - After a heart-stopping plunge in the price of crude over the last two years, along with slashed dividends and the elimination of tens of thousands of jobs, the biggest oil companies are proving surprisingly adept at again pumping profits, as well as oil, out of the ground.
---
Thursday - Greater global cooperation through carbon trading could reduce the cost of climate change mitigation by 32 per cent by 2030, according to a World Bank report.
Thursday - Greenhouse gas emissions from the main sectors covered by the European carbon market fell between 2014 and 2015, according to the European Environment Agency.
Thursday - A plant virus has developed the trick of attracting bees to the plants it has attacked to make sure they produce plenty of seed.
Thursday - Many Americans value environmental protection and want to see more of it.
Wednesday - New Zealand now has more than 2000 electric vehicles – twice as many as at the start of the year.
Wednesday - One of Australia's biggest investment companies, AMP Capital, says dumping fossil fuel assets is not the answer to climate change, despite acknowledging the significant financial risks...
Wednesday - The Ontario government has proposed a two-year moratorium on the creation or expansion of bottled water operations fed by groundwater in the Canadian province.
Wednesday - Norwegian capital Oslo has committed to reduce greenhouse gas emissions by 50 per cent compared to 1990 in four years – which would be the fastest change a city has ever had.
Wednesday - Up to 122 million more people worldwide could be living in extreme poverty by 2030 as a result of climate change and its impacts on small-scale farmers' incomes, a major UN report warns.
Wednesday - The world has taken notice of a radical approach taken by New Zealand in 2014 when it adopted the Te Urewera Act which granted an 821-square-mile forest the legal status of a person.
Wednesday - The pre-industrial atmosphere contained more particles, and so brighter clouds, than we previously thought.
Tuesday - A nuclear fusion world record has been set in the US, marking another step on the long road toward the unlocking of limitless clean energy.
---