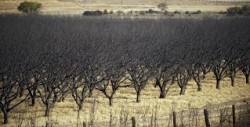 Friday - When California entered the fourth year of drought, everyone wanted to know what had gone wrong.

Friday - After some unusually wet years, Australia's landscape and ecosystems have once again returned to poorer conditions that were last experienced during the Millennium Drought.

Friday - Global demand for energy is increasing by the hour as developing countries move toward industrialisation.
Friday - The global green bonds market will hit a record $US70 billion this year, according to an estimate from Moody's Investors Services.
Friday - The London Mayoral campaign has been divisive and brutish, and admirable green policies risk becoming collateral damage.
Friday - Limiting oil exploration is not just good for the climate, it is good for investors. That is the conclusion of analysis from Carbon Tracker ahead of key shareholder votes at ExxonMobil and Chevron AGMs this month.
Friday - Erik Solheim of Norway is set to be named the new Executive Director of the United Nations Environment Programme.
---
Thursday - The election of Donald Trump would derail the landmark agreement on climate change reached in Paris last December, the architect of the accord has warned.
Thursday - Scientists in the US have identified a new hazard in a world in which the climates change and the oceans warm: measurable stretches of the seas could become sapped of oxygen.
Thursday - With the Australian federal government aiming to kick-start investment in urban infrastructure, pledging $50 million of public money in the 2016 budget to look at alternative financing mechanisms,...
Thursday - The largest political group in the European Parliament says it wants a greater proportion of EU carbon permits to be handed out free to industry from 2020.
Thursday - Germany is proposing a minimum price on European carbon emissions, according to a draft document outlining the nation's energy and climate policy through to 2050.
Thursday - The world's largest express transportation company, FedEx, is pioneering the use of sustainable aviation fuels through a new partnership which will see millions of gallons of biofuel produced from...
Thursday - The future will be thirsty unless governments place a price on water. That's the stark warning in a World Bank report urging lawmakers to make water conservation a national and international priority.
Wednesday - Carbon closed down a little yesterday, with spot NZUs last trading at $14.50.
Wednesday - An interesting question is, what are you waiting for? Global warming is the biggest problem we've ever faced as a civilisation — certainly you want to act to slow it down, but perhaps you've been...
Wednesday - Lack of scientific co-operation with other countries has cost Japan "trillions of yen" in expensive solar power because the country did not learn from the experience of other countries before rushing...
Wednesday - Ocean acidification is causing fundamental and dangerous changes in the chemistry of the world's oceans yet only one in five Britons has even heard of ocean acidification, let alone believes it a...
Wednesday - Facing the threat of climate-related flooding, residents of Louisiana's Isle de Jean Charles received this year a first-of-its-kind $48 million grant from the federal government to resettle.
---