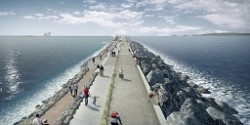 Friday - Ambitious plans have been drawn up for a network of "tidal lagoons" around the UK coast that could provide up to a quarter of the country's electricity – and there is potential to roll out the technology in many parts of the world.

Friday - Australian homeowners with solar panels and batteries could soon trade their electricity in a digital marketplace developed by a consortium of electricity providers, energy tech startups, energy retailers and energy agencies.

Friday - A leading UK voice in the debate on climate change says more attention should be paid to positive action being taken to tackle CO2 emissions in China rather than worrying about the US and Donald Trump.

Friday - Solar power in Australia is more affordable than new fossil fuel and nuclear power, with costs plummeting by almost 60 per cent over the past five years, a new report released by the Climate Council has found.

Friday - Researchers will have to deal with attacks from a range of powerful foes in the coming years – and for many, it has already started.

Friday - India's railways – the leading consumer of power – are to become the nation's largest producer of solar energy.

Friday - On the Tibetan Plateau in eastern China, four million solar panels silently soak up the sun as part of the Longyangxia Dam Solar Park. It's the largest solar farm in the world, spreading over 10 square miles of the high desert landscape.
---
Thursday - The idea that giant batteries might someday revolutionise electrical grids has long enthralled clean-power advocates and environmentalists. Now it's attracting bankers with the money to make it...
Thursday - In some political circles, hostility to climate policy has become a way of showing off one's conservative credentials. But a suggestion for pricing carbon, grounded in classic conservative...
Thursday - Australian scientists are studying air pollution and cloud formation in Antarctica in an effort to understand how non-carbon aerosolised particles impact on global temperatures.
Thursday - Integrated transport has long been the holy grail of transport engineering. Now, a project set up north of Melbourne's CBD aims to make it a reality.
Thursday - Every mouthful of food eaten by virtually every creature on Earth depends ultimately on the sun.
Thursday - Coca-Cola has announced it supports testing a deposit return service for drinks cans and bottles, in a major coup for environment and anti-waste campaigners.
Wednesday - It hits you in the face and clings to you. It makes tall buildings whine as their air conditioning plants struggle to cope. It makes the streets deserted and the ice-cold salons of corner pubs get...
Wednesday - As city temperatures rise, with a negative impact on health, councils are coming up with some innovative solutions.
Wednesday - Seattle start-up Cow Crowd works directly with ranchers across the US, cutting out the middleman and giving farmers an alternative to selling calves to factory farms.
Wednesday - When Sweden's deputy prime minister Isabella Lövin posted a photo of herself referring one of the world's most ambitious climate laws to parliament, surrounded by women, it was undeniably provocative.
Wednesday - The volume of natural resources used in buildings and transport infrastructure increased 23-fold between 1900 and 2010.
Wednesday - Company bosses need to walk-the-walk when it comes to greening their business with technology, with new research finding that just buying green IT, doesn't make you green.
---