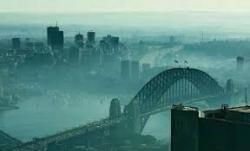 Friday - The Australian Government's proposed $2.55 billion Emissions Reduction Fund could be exposed to serious budget risk, according to carbon analytics firm RepuTex.

Friday - By CHIS BAKER, CEO, Straterra. Some New Zealanders are calling for an immediate ban on all new coal mines.

Friday - A report launched in Wellington yesterday lays the foundations for new laws around the storage of carbon dioxide as a way to reduce greenhouse gas emissions.

Friday - China is facing significant environmental and social challenges that must be addressed if it is to achieve its sustainable development goals, the United Nations says.

Friday - The wind energy industry is calling for New Zealand's baseload gas-fired generation to be retired to converted to peaker plants.

Friday - A new sustainable wool and rice straw blended upholstery fabric developed by a Wellington company goes into commercial production next year with the potential to create significant demand for New Zealand crossbred wool.
Friday - * UN's 2C target will fail to avoid a climate disaster, scientists warn * Chinese province's emissions trading move leaves Australia behind * Public-private partners at UN pledge to seek sustainable energy funding * EU gradually turning green in food security debate * New study on climate change raises stakes for US. military * Time to sign up for the climate change war
---
Friday - Pukeko, kaka and gulls are the native bird species most likely to cause problems in New Zealand's cities in the future, according to new research.
Friday - Rilean Construction has started work on its first permanent evolution series show home at Jack's Point Queenstown to help educate people on eco-friendly building methods.
Friday - The stationary fuel cell market is forecast to show massive growth, climbing from $390m in 2012 to $7.52 billion by 2020, a new report shows.
29 Nov 13 - The small-wind power market is expected to increase massively, from $609m in 2012 to $3 billion by 2020, says a new report.
29 Nov 13 - The Australian Government has made progress on establishing a one-stop-shop environmental approval process for offshore petroleum and greenhouse gas storage activities with the release of two draft...
29 Nov 13 - The Australian Coalition Government has announced its 2014 parliamentary calendar, with a rare mid-winter sitting for the new Senate as it seeks to fast track its repeal of the Carbon Pricing...
29 Nov 13 - Glaciers of the central Southern Alps are in a state of rapid change with ice volumes set to reduce by up to 60 per cent by the end of this century, a study by Victoria University's Antarctic...
29 Nov 13 - Auckland's NZI Centre has been awarded a five-star 'market leading' base building Certified Rating for energy use under NABERSNZTM, the office building energy rating scheme.
29 Nov 13 - Almost 200 countries have signed a deal on climate change in Warsaw, marking the start of a journey toward a binding international agreement at the 2015 UN climate talks in Paris.
29 Nov 13 - The economic loss suffered by the Pacific region could range from 2.9 per cent to as high as 12.7 per cent of annual GDP by 2100, according to a new study from the Asian Development Bank.
29 Nov 13 - * Top polluter China expands emissions trading * Markets have 'deep roots' in UN climate process * Coalition carbon policy not popular * Business beats the politicians in tackling climate...
29 Nov 13 - An motoring organisation has earned national recognition for leading the way with energy-efficient buildings and cutting carbon emissions in Australia.
---