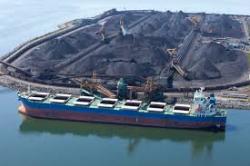 Monday - Prospects for global energy markets have been reshaped by two recent pieces of news, one of which helps to explain the other.

Monday - Climate change could mean that things get really tough for people in the US west in the second half of this century, according to new research.

Monday - Oil is a fantastic high energy and very portable fuel and currently it's very cheap In fact, it has almost always been cheap and plentiful and we have built a good life with it. So what's the problem?

Monday - It is small, bright green and an unwelcome visitor. But global warming means that this particular agricultural menace arrives earlier than ever − and consumes more than ever.

Monday - By PETER WILSON.- Vancouver architect Michael Green was unequivocal at a conference at which I heard him speak a while ago: "We grow trees in British Columbia that are 35 storeys tall, so why do our building codes restrict timber buildings to only five storeys?"

Monday - By ALEX LO.- Do rich countries care more about the environment that poorer ones? In a recent study I found that's not necessarily the case.

Monday - The town of Bethlehem in the Free State Province, South Africa, gets its name from the Hebrew words "Beit lechem" - house of bread. It is a fitting name for a town nestled within a patchwork of privately owned commercial farmland. Much can be learnt here about the challenges farmers face when conserving nature.
---
Monday - Hungarian president János Áder has become the first head of state to join the Live Earth: Road to Paris campaign that aims to ensure world leaders agree to a binding deal on tackling climate change.
Monday - * Energy industry will decide climate battle, says Kerry * Canadian scientists say Government is muzzling them * Obama scales back ambitious goals for electric car use * Axa to divest from...
Monday - Brazil will spearhead renewable energy development in South America to 2017, as the continent changes its energy profile.
Monday - KiwiRail is testing the viability of using cleaner fuels for its ferries.
Monday - Want to see eco-friendly business growth strategy in action? Be at Waikato University next Monday.
18 May 15 - Farmers must find ways of farming more sustainably while maintaining production, warns the Foundation for Arable Research.
18 May 15 - Labour Party climate changes spokesperson MEGAN WOODS on why the Government's forestry policies are failing:
18 May 15 - The new Tesla Motors factory being built outside Sparks, Nevada, was already on tap to produce 500,000 electric car batteries and become the largest battery factory in the world when chief executive...
18 May 15 - A race is on worldwide to harness the tides and waves for electrical power, with more than 100 different devices being tested by companies hoping to make a commercial breakthrough.
18 May 15 - Republican New Jersey governor and presidential hopeful Chris Christie briefly made news last week when he said that global warming is real and that "human activity contributes to it."
18 May 15 - Switching to a zero-carbon economy is more than just a dream, according to the World Bank. But costs will be high for countries that fail to act quickly.
18 May 15 - * China is on track for the biggest reduction in coal use ever recorded * Merkel calls for global emissions trading system * Tar sands still full speed ahead, but Canada promises emissions cuts *...
---