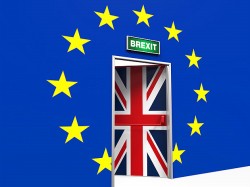 Monday - With the vote to leave the EU, the UK's future participation in the landmark Paris Agreement is now in doubt.
Monday - Britain might have voted to leave the European Union, but it mightn't necessarily have to leave the European carbon market.

Monday - Sweden just opened a test electric road of two kilometres, which allows electric vehicles to connect to an overhead system similar to light rail.

Monday - Researchers calculate the huge environmental and economic benefits to taxpayers of the trees that line many streets in California's cities and suburbs.

Monday - As the human population swells – and in the face of a changing and unpredictable climate – the demand for natural resources increases. This leads to distressing rates of deforestation to prepare land for agriculture, medicinal and forestry products. Related to this is an alarming reduction in species worldwide.
Monday - Berlin's parliament has voted to pull its money out of coal, gas and oil companies.
Monday - Australia's first bulk-buy programme for solar battery storage has launched, with more than 1000 people in Newcastle expressing interest and more than 500 attending a sign-up event to buy home battery systems.
---
Friday - The world's two primary city-led climate change and energy initiatives, the EU Covenant of Mayors and the Compact of Mayors, have announced the formation of a new, first-of-its-kind global initiative...
Friday - Oslo city council will ban cars from its city centre by 2019 as it seeks to meet a new goal of wiping out practically all of its greenhouse gas emissions.
Friday - The fossil fuel industry has spent many millions of dollars on confusing the public about climate change. But the role of vested interests in climate science denial is only half the picture.
Friday - By itself, concrete is a very durable construction material. The magnificent Pantheon in Rome, the world's largest unreinforced concrete dome, is in excellent condition after nearly 1900 years.
Friday - A bid to clear the Pacific of its plastic debris has moved a step closer with the launch of the biggest prototype clean-up boom yet by the Dutch environment minister.
Friday - Coal played a vital role in the Industrial Revolution and continues to fuel some of the world's largest economies. This is the sixth in a series looks at coal's past, present and uncertain future.
Friday - Migration with dignity must be part of a climate change adaptation strategy, rather than relocation of people as climate refugees, says a Pacific leader.
Friday - Scientists warn that plant breeders will need to accelerate development schedules if they are to ensure the ever-growing population can be fed as global temperatures rise
Friday - The global share of electricity generated from solar power could leap from 2 per cent in 2016 to 13 per cent by the end of the next decade as falling costs drive investments around the world.
Friday - Australian households and small businesses have invested more than $1bn a year in rooftop solar over the past five years, spending a total of almost $8bn since 2007, new calculations show.
Thursday - Drones, satellites and weed-killing lasers could slash the energy used to grow crops, say experts.
Thursday - The European Union soared past its 2020 carbon cutting goal six years early, according to just-released European Environment Agency data.
---