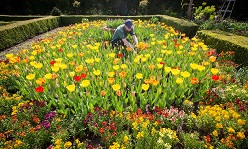 Tuesday - Advances in artificial intelligence mean a second wave of change is approaching – and it is not the low-paid service sector where jobs are most at risk.
Tuesday - Even supposing the world does make dramatic reductions in carbon dioxide emissions, the fate of the small island states remains uncertain.

Tuesday - China issued $US36.9 billion worth of green bonds in 2016, dominating the global market in climate-friendly infrastructure investment.

Tuesday - Four of the largest US West Coast cities are asking carmakers whether they can produce "a potentially record-breaking order" of 24,000 electric vehicles.

Tuesday - Daimler, BMW, and Toyota are leading a group of 13 companies pledging to invest more than $10 billion during the next five years to spur public interest in buying hydrogen fuel-cell vehicles.

Tuesday - The humble fruit sticker may seem an unlikely cause for environmental concern but removing it from produce could create huge savings in plastic, energy and CO2 emissions.

Tuesday - Scientists have discovered the world's largest tropical peatland in the remote Congo swamps, estimated to store the equivalent of three year's worth of the world's total fossil fuel emissions.
---
21 Dec 16 - Climate change is already beginning to alter the natural world. A study of 976 plant and animal species worldwide – freshwater, terrestrial and marine – reveals that local extinctions have happened...
21 Dec 16 - After more than a year of negotiations, EU member states have come up short in their efforts to find common ground on a carbon market reform seen as necessary if the ambitions of the Paris Agreement...
21 Dec 16 - As a famous old song says, they've got an awful lot of coffee in Brazil. But if the findings of New Zealand and Australian researchers are right, that will change over the next 30 years.
21 Dec 16 - A red alert, the highest level in the China's pollution warning system, has been issued in at least 23 cities as smog cancelled flights, shut factories and stopped traffic.
21 Dec 16 - Ten years of effort finally paid off for Las Vegas this week when officials announced the city government will now be powered entirely by renewable energy.
20 Dec 16 - We weep at the disappearance of endangered species but avert our eyes to the causes of Earth's destruction.
20 Dec 16 - In less than two weeks, 2016 will officially be the hottest year on the books in more than 120 years of record keeping by US agencies. It will be the third straight record-setting year — and of the...
20 Dec 16 - Federal support for research and development into clean tech should appeal to incoming president, says Microsoft billionaire Bill Gates.
20 Dec 16 - Scientists have published a set of unprecedented ocean observations near the largest glacier of the largest ice sheet in the world: Totten glacier, East Antarctica. And the result was a troubling...
20 Dec 16 - Autonomous buses are likely to be better for passengers and the environment, but not everyone is excited.
19 Dec 16 - The Green Climate Fund board has approved eight funding proposals worth $US315 million ($NZ452m) at a meeting in Samoa.
19 Dec 16 - The emerging biofuel industry is casting the net wide to find solutions to two environmental problems: reducing waste and increasing fuel production.
---