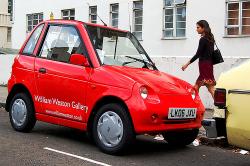 Monday - New Zealand needs to embrace biofuels, electric vehicles and energy forests, and get rid of coal and gas-fired industrial processes if it wants to meet its 2050 emissions reduction commitment, officials have told the Government.
Monday - The Government's favourite defence for the failure of New Zealand to take meaningful action on climate change – that it's a small country generating negligible greenhouse gas emissions – doesn't hold water, officials say.

Monday - China's commitment to pricing carbon throughout its economy from 2017 means that the rest of the world should now be factoring the cost of greenhouse gas emissions into business projections, says a leading public policy analyst.
Monday - New research into what motivates people to take action on climate change shows that promoting the benefits of doing something to address the problem is an effective communication tool.

28 Sep 15 - The man behind a new environment-based political party says he has stood in rivers with international tourists while milk and cow manure washed around them.
28 Sep 15 - The Government has rejected calls for a national assessment of the risk climate change poses to business, security, the environment and national well-being.
21 Sep 15 - Climate Change Minister Tim Groser wanted New Zealand to cut greenhouse gas emissions by 15 per cent below 1990 levels by 2030, a Treasury email shows.
---
21 Sep 15 - Treasury bosses are not the only officials telling the Government that New Zealanders want a settled, broad agreement on climate change policy.
14 Sep 15 - High government officials and business leaders have recommended cross-party consensus on climate change - something the Government has since ruled out.
14 Sep 15 - New Zealand has told Pacific Islands leaders to take to China their concerns about their countries being engulfed by climate-change-induced rising sea levels.
14 Sep 15 - New analysis of promises made by governments on emissions reductions show they are not enough to stop global warming rising above the 2° danger level.
7 Sep 15 - Government departments are divided over how New Zealand should approach its post-2020 emissions reduction target – a target which the Government was going to set at just 6 per cent, Cabinet papers...
7 Sep 15 - A strong carbon price, a green investment bank and a climate commission are emerging as the basis of a political consensus on climate change policy – at least on one side of the House.
31 Aug 15 - The Government is now doing what businesses have been doing since 2011 – totting up how many credits it has to surrender to meet its obligations.
24 Aug 15 - Business, government and academic global leaders gather in Nelson this week to talk about the environmental impacts of manufactured contaminants.
17 Aug 15 - Australia has set a post-2020 emissions reduction target as poor as that of New Zealand.
17 Aug 15 - New Zealand might have reached the limits of its ability to exploit natural resources, the Labour Party says.
17 Aug 15 - The Emissions Trading Scheme review should be pushed off into next year, a climate change lawyer says.
17 Aug 15 - First-world cities have an unhealthy dependence on the "urban machine" - the modern engineering solutions within their infrastructure - making their inhabitants vulnerable to disaster, new research...
---