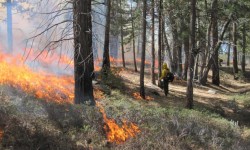 26 Feb 21 - More fierce and frequent fires are reducing forest density and tree size and may damage forests' ability to capture carbon in the future, according to a global study.

25 Feb 21 - One of the instigators of an influential climate initiative for big business has gone public with criticism of its target-setting process, saying it does not measure up to its ambition.

19 Feb 21 - International organisations, researchers and data scientists say artificial intelligence and big data are critical to combat years of promises but inadequate action on the climate, biodiversity and pollution crises.

10 Feb 21 - Misuse of climate models could pose a growing risk to financial markets by giving investors a false sense of certainty over how the physical impacts of climate change will play out, according to the authors of a new paper.

12 Jan 21 - New Zealand's average temperatures continue to climb, with latest climate data showing 2020 was one of the country's warmest years on record.

10 Dec 20 - Greenhouse gas emissions reached a new high last year, putting the world on track for an average temperature rise of 3deg, a new United Nations report shows.

10 Dec 20 - There's a serious mismatch between what New Zealand's Government identifies as the most pressing environmental issues, including climate change and freshwater quality, and the investments in environmental research it actually makes.
---
4 Dec 20 - This year is on track to be one of New Zealand's hottest on record, meaning five of the 10 warmest years have occurred since 2013, scientists say.
4 Dec 20 - Heat-related deaths are surging around the world, particularly among older people, scientists say, warning of growing pressure on health systems hit hard by covid-19.
30 Nov 20 - People worried about the climate crisis are deciding not to have children because of fears that their offspring would have to struggle through a climate apocalypse, according to the first academic...
18 Nov 20 - New Zealand is heading for another marine heatwave this summer – the third in four years, scientists are warning.
11 Nov 20 - Scientists can now take a pledge committing them to tell the unvarnished facts: uncompromising public statements explaining how grave the reality is.
28 Oct 20 - Scientists have found evidence that frozen methane deposits in the Arctic Ocean – known as the "sleeping giants of the carbon cycle" – have started to be released over a large area of the continental...
28 Oct 20 - While this year will be memorable for many reasons, it is now more likely than not that 2020 will also be the warmest year for the Earth's surface since reliable records began in the mid-1800s.
28 Oct 20 - Half a planet apart, one low-lying and the other on the roof of the world, two huge regions confront an increasing dust risk − a menace to jobs, to food and to lives.
22 Oct 20 - Once again science has presented evidence that a new geological epoch is here. This human footprint is all our own work.
21 Oct 20 - Nights are warmer. So are northern lakes. And farm livestock are at greater risk of disease, thanks to rising heat.
13 Oct 20 - Extreme weather events have increased dramatically in the past 20 years, taking a heavy human and economic toll worldwide, and are likely to wreak further havoc, the UN has said.
13 Oct 20 - Hearing eco-friendly tips such as riding bikes instead of driving and going vegan to save the planet actually makes people less likely to do anything about climate change, new research shows.
---