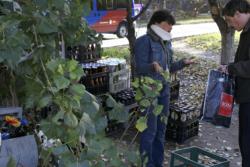 9 Feb 16 - Most Europeans take pride in recycling. A good citizen separates glass from plastics, biowaste from metal cans and brags about it to their friends. Recycling helps to soothe some of the anxiety driven by endless consumption.

7 Dec 15 - In the run-up to the COP21 international climate summit in Paris, business leaders worldwide have shown substantial support for action on greenhouse gases.

16 Nov 15 - Looking around the OceaNZ Blue paua farm at Bream Bay, one thing Lynette Suvalko saw was lots of gumboots.
16 Nov 15 - Many of the world's biggest travel and tourism companies have improved their carbon efficiency by 20 per cent in the past decade and are on course to halve carbon dioxide emissions by 2035, according to a new report.

9 Nov 15 - More than a billion tonnes of potentially toxic, bleach-like waste is produced and piled in landfills every year, with often devastating effects. And yet most people haven't even heard of these 'alkaline wastes'.

21 Sep 15 - Discovering exactly what is wasted in one day at one of its sites was an eye-opener for Aotearoa Fisheries.
7 Sep 15 - Brands that are effectively telling their sustainability story are becoming more powerful.
---
24 Aug 15 - Tiwai Point aluminium smelter owner New Zealand Aluminium Smelters last year received just half the number of free carbon credits it got the previous year.
24 Aug 15 - New Zealand's ecolabelling is officially up to global standards.
24 Aug 15 - A new drying plant at Fonterra's Pahiatua milk-powder plant will cut water consumption per litre of milk by reusing its own condensate, the dairy co-operative says.
27 Jul 15 - New Zealand's capacity to recycle construction, industrial and demolition material has been boosted.
13 Jul 15 - A United States company with operations in New Zealand has been granted a second patent on break-through hydrogen technology.
13 Jul 15 - The building sector globally currently consumes more energy (34%) than the transport sector (27%) or the industry sector (28%). It is also the biggest polluter, with the biggest potential for...
28 Apr 15 - The Government will stump up a third of the cost of a new commercial and industrial waste processing plant for Marlborough.
20 Apr 15 - One of the common concerns about plastic packaging is that it is generally non-biodegradable and will persist in the environment for extremely long periods of time once thrown away.
7 Apr 15 - A new company is helping others to green their supply chains.
7 Apr 15 - Australian technology that harvests blast furnace waste and converts it into a new product to make cement is being trialled for commercialisation in China where 60 per cent of the world's iron waste...
9 Mar 15 - The world is changing. The weather is becoming more volatile, with the number of extreme weather events on the rise. Climate change represents the new normal: the Earth is already showing the impacts...
2 Mar 15 - A New Zealand company turning old plastic bottles into building insulation has won CarboNZero certification.
---