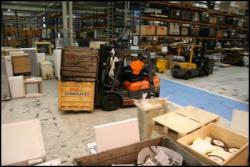 28 Feb 14 - Plastics New Zealand president Simon Wilkinson explains how much whiteware manufacturer Fisher & Paykel has achieved in 20 years' of recycling:

14 Feb 14 - Green business lobby group Pure Advantage is moving into the affordable housing market, and says it offers huge social, economic and environmental advantages to New Zealand.

31 Jan 14 - New Zealand business is trailing the world when it comes to environmental standards.
24 Jan 14 - A second public truck stop is selling Z Energy's low-emissions Z DEC fuel.

22 Nov 13 - Another rubbish-bag maker has been prosecuted for making false claims about being environmentally friendly.

22 Nov 13 - The founder of a green search engine says he could end tropical deforestation if he had as many customers at Google.

15 Nov 13 - This year's Sustainable Business Network awards have attracted unprecedented interest.
---
15 Nov 13 - Product stewardship councils have been put in place for the recycling of plastic, aluminium, paper, glass and cardboard packaging.
8 Nov 13 - LanzaTech's steelmill-waste-to-bioenergy plant in Beijing has earned recognition from international sustainability certifier RSB.
8 Nov 13 - An Auckland-based maker of environmentally friendly cleaning products has been named first in this year's Deloitte Fast 50.
8 Nov 13 - The Department of Conservation has appointed environmental and recreational consultant Dr Kay Booth to lead DOC's conservation partnerships group.
8 Nov 13 - Dunedin City Council is one of the first local authorities in the country to measure its carbon footprint against the global greenhouse gas standard, ISO 14064-1:2006.
8 Nov 13 - New international standards for carbon footprinting are now available in New Zealand.
25 Oct 13 - By PETER KERR. Here's an example of a simple idea being good, and a good idea being simple.
18 Oct 13 - New Zealand sustainable reporting company Rata Sustainable Certification Programme has moved into the food sector.
11 Oct 13 - Sustainable building no longer has to prove its economic worth – the business case more than stacks up in terms of lower operating and life-cycle costs, and improved value for owners, says a new...
4 Oct 13 - A sustainable business started in a linen cupboard has turned into an $800,000-a-year company.
27 Sep 13 - LanzaTech has been awarded a $US4 million grant by the Advanced Research Projects Agency-Energy of the US Department of Energy to work with partners on unlocking the energy in waste methane gases.
20 Sep 13 - Canny emitters used the international glut of cheap ERUs to cut carbon liabilities last year to a fraction of previous levels.
---