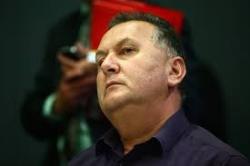 Thursday - Shane Jones' legacy to the Labour Party – and potentially New Zealand - is a policy designed to release the environmental and social potential of forestry, as well as boost economic returns.

Thursday - New Zealand is finally moving to recognise carbon stored in wood products – two years after it could have done so.

17 Apr 14 - Serious questions raised in Parliament about the independence of scientific advice in consent hearings from Government scientists are justified, says a key witness in the Ruataniwha dam hearing.

17 Apr 14 - Skiing on New Zealand's highest skifields will be viable for another generation – but possibly not for longer than that - thanks to climate change.

11 Apr 14 - Politicians too afraid of losing votes to talk about climate change are sentencing humanity to catastrophe, says former Prime Minister Sir Geoffrey Palmer.

11 Apr 14 - New Zealanders' love affair with cars and cows has pushed our greenhouse gas emissions up by 25 per cent.

4 Apr 14 - A commercial-scale biodiesel project nearly stymied by the withdrawal of Government support is to go ahead.
---
4 Apr 14 - NEW ZEALAND clean-tech company LanzaTech has been lured to Illinois with more than $US1 million worth of tax credits.
4 Apr 14 - NEW ZEALAND is working on ways to link with emerging carbon markets in Korea and Thailand.
4 Apr 14 - NEW Act Party leader Jamie Whyte says that businesses have no obligation to the environment.
4 Apr 14 - TWENTY-THREE million carbon units were traded on the New Zealand market last month.
28 Mar 14 - A LEADING forestry services executive is calling on the Government to set a target range for carbon prices.
28 Mar 14 - ONE OF THE companies involved in a $13.5 million project investigating the viability of turning wood waste into biofuel says it is not involved in the NXT Fuels project.
28 Mar 14 - INTERNATIONAL carbon traders say there is little incentive for the private sector to get involved in carbon-sequestering forestry projects.
21 Mar 14 - National could feel at the ballot box its failure to take action on carbon prices and lack of vision on forestry.
21 Mar 14 - Maori Party co-leader Tariana Turia has weighed into the row over low carbon prices, describing the loss of value of credits given to Maori in Treaty of Waitangi settlements as a breach of human...
21 Mar 14 - Huge potential exists for New Zealand and Britain to collaborate on the science and technology of renewable energies, says the British Foreign Office chief scientific adviser.
21 Mar 14 - The Australian Government's bill to scrap that country's carbon tax has been thrown out of the Senate, prompting speculation that a double dissolution could be looming.
21 Mar 14 - New Zealand's greenhouse gas emissions from electricity are at a 17-year low.
---