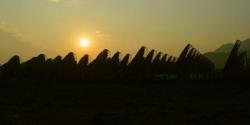 Tuesday - The foundation stone of a new solar power club of 122 nations has been laid in Gurgaon, India, by Indian Prime Minister Narendra Modi and French President François Hollande − cementing an agreement the two leaders made at the Paris climate talks last December.

Tuesday - Global agreements to aim for "well below" 2deg warming are nice enough, but now it's time to develop some detailed policies to help us to get there.

Tuesday - Billions of gallons of oil and huge quantities of gas, already discovered and which companies were about to extract, are currently being left unexploited because of the plunge in oil prices.

Tuesday - Wind power and solar power are ways to reduce carbon emissions, but these generation sources are dependent on the vagaries of the weather, which means neither wind nor solar can produce electricity on-demand at all hours of the day.

25 Jan 16 - To tackle chronic energy shortages Pakistan plans to mine and burn millions of tonnes of coal, helped by China's money and expertise.

25 Jan 16 - Call for governments to give financial backing for technology that could help to save the world from overheating by preventing CO2 escaping into the atmosphere

18 Jan 16 - Using energy-efficient LED bulbs is saving flight catering services company LSG Sky Chefs $77,000 a year worth of power – and reducing greenhouse gas emissions by 42 tonnes a year.
---
18 Jan 16 - Rising temperatures and reduced rainfall will make the flow of rivers less dependable, affecting supplies to the electricity generators that rely on them.
7 Dec 15 - Desperate moves to delay the onslaught of widespread solar electricity generation – including making people with solar panels pay more for electricity from the grid and even keeping the Huntly...
7 Dec 15 - If the world succeeds in reaching its targets for curbing greenhouse gases, a leading bank says, it will mean huge quantities of oil and gas reserves must be left unused.
7 Dec 15 - Innovative new research into clean energy technology shows there are viable alternatives to fossil fuels – provided there is enough political will and investment.
7 Dec 15 - Global energy production from small wind turbines will increase five-fold by 2025, a new report says.
30 Nov 15 - Prime Minister John Key today will lead a high-powered call for an end to fossil fuel subsidies – despite the fact his Government is subsidising fossil fuel exploration.
30 Nov 15 - The coal, oil and gas sectors have been warned that trillions of dollars of assets could be stranded if a global agreement on limiting climate change is reached at the UN summit in Paris.
30 Nov 15 - A large solar thermal electricity plant will soon begin operating near Ouarzazate, Morocco, which will reportedly bring energy to a million people when fully complete.
23 Nov 15 - Bluff aluminium smelter owner Rio Tinto – which threatened to quit New Zealand if a carbon price was introduced - is one of the world's worst-prepared mining companies for carbon regulation, says a...
23 Nov 15 - Liechtenstein, Germany and Italy have the highest per capita rate of installed solar generation in the world.
16 Nov 15 - Fonterra and 11 other major New Zealand companies failed to disclose to a global business organisation information about what they are doing on climate change.
16 Nov 15 - Replacing traditional light bulbs with energy-efficient LED bulbs might seem like a simple job – unless you own some of the country's largest shopping centres and offices.
---