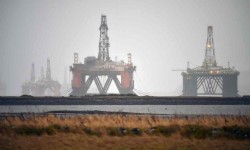 Today 12:00pm - A UK pension scheme with more than four million members is shifting almost 10 per cent of its investments into a new climate change fund designed to move people's money out of fossil fuels and into renewable energy.

Today 12:00pm - EU energy ministers have backed the third version of the 28-country bloc's clean energy package, praising its focus on renewables, energy efficiency and consumers.

Monday - The world's biggest battery manufacturers say they will fight Australia's proposed new guidelines and recommendations that could ban battery storage units from inside homes and garages.

Monday - The Danish island of Samso's energy makeover took less than a decade and was spurred on by local commitment.

Friday - Ambitious plans have been drawn up for a network of "tidal lagoons" around the UK coast that could provide up to a quarter of the country's electricity – and there is potential to roll out the technology in many parts of the world.

Friday - On the Tibetan Plateau in eastern China, four million solar panels silently soak up the sun as part of the Longyangxia Dam Solar Park. It's the largest solar farm in the world, spreading over 10 square miles of the high desert landscape.

Thursday - The idea that giant batteries might someday revolutionise electrical grids has long enthralled clean-power advocates and environmentalists. Now it's attracting bankers with the money to make it happen.
---
21 Feb 17 - The Government risks court action over its latest energy efficiency strategy, says energy campaigner Jeanette Fitzsimons.
21 Feb 17 - While more than 20 per cent of India's population has no access to electricity, the richest 40 per cent of the population gets highly subsidised power.
20 Feb 17 - New Zealand's small businesses are lagging behind in adopting energy efficiency measures that could save them significant amounts of money – even though most say that their energy costs are...
17 Feb 17 - Here is a vision of the future in a warming world without fossil fuels:
17 Feb 17 - The US solar market last year nearly doubled its annual record, installing 14,626MW of solar PV, representing a whopping 95 per cent growth increase over 2015.
16 Feb 17 - A group of investors and insurers who manage $US2.8 trillion have called on the G20 to end public funding for coal, oil and gas by 2020.
15 Feb 17 - Development of a new open-cast coal mine near Westport is being challenged in court.
15 Feb 17 - Cafe chain Caffè Nero has revealed how it recycles coffee grounds from 122 of its London stores to make low-carbon fuel.
10 Feb 17 - Global methane emissions from oil production between 1980 and 2012 were far higher than previously thought – in some cases, as much as double the amount previously estimated, according to a new...
10 Feb 17 - To hold global warming below 2deg, the 28-state EU bloc needs to smash dependence on coalby the end of next decade.
7 Feb 17 - Blowing up mountaintops to strip them of coal just got easier, as Congressional lawmakers killed a freshly issued Obama administration rule that protected streams from mining waste.
3 Feb 17 - A new type of small wind turbine for home electricity generation, intended to match the popularity and potential of solar power, is being developed in Europe.
---