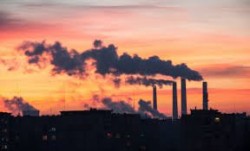 19 Dec 19 - New Zealandís projected greenhouse gas emissions are falling.

30 Oct 19 - As the notion of flight shame is taking off around the world, emissions from aviation are making a small but growing contribution to global warming.

29 Oct 19 - National Party deputy leader and former climate minister Paula Bennett says when it was in power, her party stabilised greenhouse gas emissions, while under this Government they will keep rising until 2025. Is she right?

4 Oct 19 - New Zealand has today ratified the Kigali Amendment to the Montreal Protocol, promising to reduce the use of climate-damaging hydrofluorocarbons.

5 Sep 19 - Reaching net zero emissions is easy for us to aim for but much more difficult to deliver Ė and worse, we might be focusing on the wrong objective.

2 Sep 19 - Auckland University students have won their five-year campaign to get the institution to stop investing in fossil fuels.

12 Aug 19 - Money instead of carbon credits was used to offset half the greenhouse gas emissions liable under the Emissions Trading Scheme last year - creating a potential financial liability for taxpayers.
---
25 Jul 19 - New Zealanders are getting more worried about climate change, and most donít think weíll be able to cut our emissions in time to avoid its impacts.
25 Jul 19 - European funds managing $2 trillion in assets have called on cement companies to slash their greenhouse gas emissions, warning that a failure to do so could put their business models at risk.
23 Jul 19 - A New Zealand company whose products are responsible for more than a million tonnes of greenhouse gas emissions a year says it is setting emissions reduction targets in line with the Paris Agreement.
23 Jul 19 - Taking a long-haul flight generates more carbon emissions than the average person in dozens of countries around the world produces in a whole year.
14 Jun 19 - The US creates more planet-warming greenhouse gas emissions through its defense operations alone than industrialised countries such as Sweden and Portugal.
13 Jun 19 - Carbon emissions from the global energy industry last year rose at the fastest rate in almost a decade.
11 Jun 19 - Just one per cent of global greenhouse gas emissions are at prices likely to drive the emissions cuts needed to preserve life as we know it, the World Bank says.
5 Jun 19 - Sustainability is now mainstream business in New Zealand, the Sustainable Business Council says.
31 May 19 - More emitters this year are opting to pay the Government fee instead of surrendering carbon units, leaving the Government with a potential carbon deficit when it comes to meeting the countryís...
15 May 19 - A major update on how countries measure greenhouse gas emissions has failed to address key weaknesses, particularly on bioenergy, campaigners say.
3 May 19 - Help is at hand for businesses and other organisations wanting to track their greenhouse gas emissions.
11 Apr 19 - New Zealandís greenhouse gas emissions are growing again, following the global trend.
---