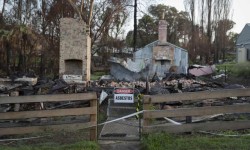 Thursday - Millions of Australians could be left uninsured as the effects of climate change put increasing pressure on the financial system, the industry's regulatory body has warned.

2 Mar 21 - Eight teenagers and an octogenarian nun are in Australian court today to launch what they hope will prove to be a landmark case – one that establishes the federal government's duty of care in protecting future generations from a worsening climate crisis.

24 Feb 21 - Reports that Britain's prime minister, Boris Johnson, is considering calling for carbon border levies at the G7 summit to be held in London in June have produced a predictable reaction from the Australian government.

23 Feb 21 - Australia's' natural gas pipeline owners are working to future-proof their $A75 billion in assets amid a global push towards clean energy, running tests to blend hydrogen with gas and produce green methane to replace the fossil fuel.

22 Feb 21 - The Australian Government is backing soil carbon – drawing carbon from the atmosphere and storing it in the land – as a major part of its response to the climate crisis.

15 Feb 21 - Listed Australian energy company AGL says it will urgently rewrite its business strategy after rapid market change forced it to announce a massive loss in the December half, and as demand for home batteries, remote storage and electric vehicles is starting to "take off."

10 Feb 21 - ANZ will stop lending money to Australia's biggest coal port, the Port of Newcastle, after adopting new policies last year that prohibit it entering new finance deals for customers with significant exposure to the fossil fuel.
---
9 Feb 21 - Australian Prime Minister Scott Morrison might be warming to the goal of net-zero emissions by 2050, but federal Nationals leader Michael McCormack has thrown a spanner in the works by suggesting...
5 Feb 21 - Prices for Australian carbon offset permits have pushed above $17, a new 12-month high, boosted by demand from corporate emitters looking to take advantage of lower prices as the push for stricter...
29 Jan 21 - Australia will effectively be abandoning the Paris agreement unless it makes at least a 50 per cent cut in greenhouse gas emissions by 2030 and reaches net zero well before 2050, according to an...
26 Jan 21 - Fossil-fuel industry leaders and a controversial economist have joined a committee responsible for ensuring the integrity of projects that get climate funding in Australia.
10 Dec 20 - Australia's hottest spring on record, which saw temperatures more than 2deg above average, would have been "virtually impossible" without human-caused climate change, new analysis has found.
8 Dec 20 - Australian Prime Minister Scott Morrison does not yet have a speaker's spot at a global climate ambition summit this weekend, despite telling his parliament last week he intended to use an appearance...
2 Dec 20 - Australia has sweltered through its hottest spring and November on record, with both the season and the month more than 2deg warmer than the long-term average.
30 Nov 20 - Parts of Australia, including Sydney, have sweltered through the hottest November night on record with temperatures likely to stay high, prompting authorities to issue a total fire ban.
27 Nov 20 - Australia's top corporate leaders have met to discuss tackling climate change in line with the Paris Agreement as part of an environmental initiative backed by Richard Branson's The B Team.
17 Nov 20 - Steel giant BlueScope has announced a $A20 million investment to expand Australian manufacturing of components used in wind and solar projects, as the company prepares to meet a surge in demand for...
10 Nov 20 - The New South Wales Government is promising a $32bn private investment boom in renewable energy in regional areas under a plan to transform the state's electricity infrastructure.
3 Nov 20 - One of Australia's largest pension funds has agreed to settle a landmark climate risk litigation filed by a 25-year-old member who alleged it was failing to protect his retirement savings against...
---