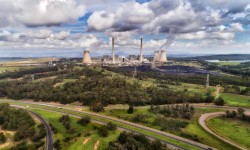 Tuesday - Australia's greenhouse gas emissions have dipped slightly on the back of new clean energy and a sharp fall from agriculture due to drought, but the decline was almost entirely wiped out by surging industrial pollution.

Monday - The Australian Coalition Government's safeguards mechanism was meant to stop rises in industrial emissions cancelling out cuts paid for by taxpayers – but it's a colossal failure.

Monday - By ANDREW SPENCE | Adelaide-based Australian Gas Networks has been awarded $1.28 million in Federal Government funding to support a study into introducing renewable hydrogen into South Australian and Victorian towns.

19 Feb 20 - Australian Prime Minister Scott Morrison has described a report he might adopt a technology investment target to avoid signing up to a commitment of zero greenhouse gas emissions by 2050 as speculation, but confirmed his government will take a "technology over taxation" approach to climate change.

17 Feb 20 - Australia's leading economic regulator has warned that climate change is already having a "profound" effect on the Australian economy, dragging down production, the value of Australian exports and the confidence of Australian consumers.
17 Feb 20 - Sydney is looking at using its public transport system to cut the number of delivery vans clogging its streets.

14 Feb 20 - By ANDREW SPENCE | Australian mining company Oz Minerals plans to power its proposed West Musgrave copper nickel mine in central Australia with up to 80 per cent renewables.
---
12 Feb 20 - Emissions from Australia's largest industrial emitters have surged to 60 per cent above 2005 levels, thanks to record growth in the oil and gas, transport and mining sectors, analysts say.
12 Feb 20 - Communities affected by the Australian bushfires are starting to reckon with a complex, expensive aftermath: the threat to their drinking water.
4 Feb 20 - Australia's bushfire crisis was remarkable for the deluge of disinformation spread by climate deniers.
31 Jan 20 - Campaigners from Extinction Rebellion have dumped a load of manure outside the Queensland office of News Corp to protest against the media giant's coverage of climate change.
28 Jan 20 - For many conservation biologists and land managers, the unprecedented extent and ferocity of the Australian bushfires has incinerated much more than koalas and their kin.
13 Dec 19 - The NSW state government is considering evacuating the residents of as many as 90 towns seriously affected by drought.
10 Dec 19 - Australia is at risk of becoming a dumping ground for cars pre-charged with a greenhouse gas 1400 times more potent than carbon dioxide, industry groups warn.
10 Dec 19 - International urban environment experts are gathering in Adelaide this week to tackle the challenge of climate change in increasingly hotter cities.
9 Dec 19 - By DANIELLE CLODE | It is only mid-November but we have to walk early to avoid the heat.
3 Dec 19 - Construction has begun on a pioneering hydrogen production facility in Adelaide, which will play a major role in South Australia's bid to become a global leader in certified green hydrogen.
26 Nov 19 - By RICHARD FLANAGAN | Australians everywhere are ready to get on with the job of dealing with the climate crisis. We just need a prime minister to lead us.
25 Nov 19 - Farmers, bird watchers and other Australians close to the land are noticing the impacts of climate change on the country's wildlife.
---